2003: The Year of the Woman in Film?

by Kirsten Greco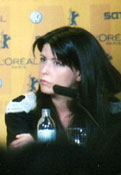 Are females in Hollywood finally getting their due? In many ways, it seems like it – strong roles for actresses are becoming more commonplace, more female directors than ever are getting critical recognition, and 2003 especially had many films in the spotlight that both starred women and were helmed by women. But are things really changing, or is this seeming trend just an illusion?
Many critics actually hailed 2002 as the year of the woman. That year saw such films as The Hours, Far from Heaven, Chicago, and Frida – all with strong leading female roles – receive many accolades. But the one thing that was missing was the presence of women behind the camera. For example, when looking at films nominated for Oscars in 2002, a disturbing trend emerges. Of the ten producers of the five films nominated for Best Picture, only one was a woman (Fran Walsh for The Lord of the Rings: The Two Towers). There were no female directors nominated (although two of the foreign language films had women at the helm – Caroline Link directed Germany's Nowhere in Africa and Paula van der Oest directed the Netherlands' Zus & Zo), no female composers nominated, and no female cinematographers nominated. There was only one female editor nominated (Thelma Schoonmaker for Gangs of New York) and one female screenwriter nominated (Nia Vardalos for My Big Fat Greek Wedding). Where was all of the female talent?
On closer inspection, it seems like most of the female talent behind the camera for the past few years was working on independent films. 2003 in particular was a banner year for females working in and on indie films. This year's Berlinale screened several films from 2003 that featured females. Some of the most talked-about included competition films Monster, directed by Patty Jenkins and starring Charlize Theron (who was also a producer); Danish film In Your Hands, directed by Annette K. Olesen and featuring females in the two lead roles; and 20:30:40, a Chinese film directed by Sylvia Chang that is about three women at different stages of life. Other successful 2003 indie films with strong females included In the Cut, directed by Jane Campion and featuring Meg Ryan in a decidedly un-perky role; Thirteen, directed by Catherine Hardwicke with Holly Hunter and Evan Rachel Wood; and New Zealand film Whale Rider, directed by Niki Caro and starring Oscar-nominated newcomer Keisha Castle-Hughes.
Unfortunately, though, many actress-es and female directors admit that independent films are often the only option for good roles. Marcia Gay Harden, an Oscar nominee for 2003's Mystic River, says that "in the independent film world, there are always more interesting characters, and you can always get a 'more famous actress' to do your low-budget film because, finally, there's a role that she's not getting in Hollywood." The other thing about indie films is that they often allow big-name actresses to shed their glamorous image. Patricia Clarkson, an Oscar nominee for 2003's Pieces of April, says "I think it is the age now of women really taking on the challenge and losing our vanity. I think now we are realizing it's all right if your hair does not look good or if you do a movie without makeup. You're still going to get another job. If you're good in the film, your work will get you the next job. Not because your teeth look good."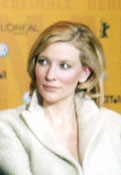 So what would have to change in Hollywood for female-driven films to become more commonplace? I asked that very question in two different press conferences at the Berlinale. I first asked it of Diane Keaton, in town promoting the rare Hollywood big-budget film featuring a strong, older female role: Something's Gotta Give, directed by Nancy Meyers. Her short answer: "More scripts." But Cate Blanchett, promoting her film The Missing with director Ron Howard, gave a very interesting answer. She mentioned first that she had had a great year with female roles (for The Missing and Veronica Guerin), but then continued, "but to be fair, I think it does take a director to actually be interested in what's going on in a woman's face, and to shape the edit of a story that actually contains all those intimate, detailed, nuanced moments that I'm sure a lot of actresses give but maybe they just don't make it on to the screen. That somehow . . . the edit becomes more male-focused. I don't know whether that's studio pressure . . ., but Ron is one of those directors [who keeps the edit female-focused]."
In the end, it will probably take more of a push from big-name female actresses as well as more successes by female directors and screenwriters to change the tide in Hollywood. Some women approach the issue very matter-of-factly, such as 20:30:40 actress-producer-director Chang, who once said, "here or anywhere, a good role for an actress over 40 is hard to come by. I went a more aggressive route by becoming a director. It didn't make it any easier to stay in the business, but it helped me stay in it for longer." But others are more hopeful, such as director Patty Jenkins who said she hasn't really felt any prejudice in Hollywood, although she acknowledges that she is an "assertive woman," which she feels is essential to succeeding there. Perhaps the Oscar nominations for 2003 films are a herald of things to come: for only the third time in history, a female director was nominated for Best Director (Sofia Coppola for Lost in Translation). Of the five films that were up for Best Picture, four featured female producers, and four of the ten films up for Best Screenplay included female writers. Hopefully this is a sign that the future will bring more equality in the film industry.