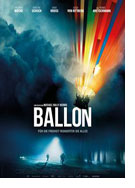 Based on a not so long ago true story, Ballon reminds audiences what measures people will undertake for freedom. The 1979 school year is over and most are planning summer holidays. Erik (Ronald Kukulies) boasts about going to Bulgaria, while Peter (Friedrich Mücke) and Doris (Karoline Schuch) are reticently noncommittal. Their teenagers, Frank Strelzyk (Jonas Holdenrieder) and Klara Baumann (Emily Kusche) are giddy having just graduated. When the Strelzyks visit Günter (David Kross) and Petra (Alicia von Rittberg) however, the conversation gets lively: the time is ripe to hatch their venture. They worked on it over two years; therefore, surprisingly the Wetzels choose practicality before dreams. Disappointed, yet nervously anticipatory the Strelzyks carry on, although their youngster (Tilman Döbler) is upset. "If at first you don't succeed, try, try again." With the Stasi hot on their trail, and nary months to succeed, a choice is made that combines multiple talents and steadfast determination.
Director Michael Bully Herbig—11-years-old when the escape occurred—skillfully recreates a chilling, tense historical event revisited within Kit Hopkins, Thilo Röscheisen, and Michael Bully Herbig's screenplay. The authors were able to access 2000 relevant pages in Stasi-Akten (documents) with both families' permission. The cast is terrific; of note is Thomas Kretschmann as Oberstleutnant (Lieutenant Colonel) Seidel leading the Stasi (Ministerium für Staatssicherheit) secret police team. Bernd Lepel's production design recreates the Deutschen Demokratischen Republik's landscapes, and lifestyles, including 30 Tabant and Wartburgh cars from private sources. Impressive is Torsten Breuer's cinematography, Alexander Dittner's strategic editing and Ralf Wengenmayr's interpretive music. Ballonbau Wörner Augsburger deserves kudos for recreating two originally-sized balloons for the film. At 32m (105ft) height, 1245m2 (13401sq ft) fabric, and 4200m3 (148321ft3) air their second balloon was the largest in Europe at that time, and added to Guinness World Records.
Fraught with duplicity, mistrust, and the fear penetrating the DDR, Herbig's film tautly reflects mindsets, from the top down. Ballon is impressively authentic, incorporating photographs of the true-life participants during closing credits. (Marinell Haegelin)


Second Opinion

It is the summer of 1979 in the small DDR town of Ziegenrück and Peter Strelzyk (Friedrich Mücke) and his wife Doris (Karoline Schuch) are at the graduation ceremony of their son Frank (Jonas Holdenrieder). Peter is muffling serious remarks under his tongue, while his wife shifts nervously in her seat, hoping no one can hear what he has to say. His accusations come from a strong distaste on the strong oppressive ideology of the communist state he is forced to live in. Meanwhile we see that his neighbor, the local governing officer, is quite an incompetent idiot. As a former electrician and mechanic for the East German Air force, Peter is completely frustrated with his current prospects in the East. Rules, regulations and slow progress along with hot-winded politicians are all the future holds. So he and his best friend Günter Wetzel (David Kross) from a local plastic factory realize that they ,along with their families, have to escape their cage to get to the West.
Since both men are technically inclined, they come up with a brilliant scheme to escape from East to the West by means of building a hot-air balloon. It seems like a brilliant plan since it has never been done and they have the means to do it. The most important issue is to keep everything a secret. So while the kids go to school, the parents juggle working on their plan, going to work and keeping a low profile in their community. So one cold and windy night they decide to make the attempt. The Wetzels opt out and the Strelzyks make the attempt. Due to the bad weather conditions, the balloon ride takes a turn for the worst. As the balloon crashes to the ground, we see their hopes deflate and their fear rise, since they have now become enemies of the State. Before long the Stasi is hot on their trail.
This heroic story of two families, the Strelzyks and the Wetzels, escaping from the DDR, is a true story and is a timely making of this film, since it must have been spurred by Peter Strelzyk's death, which recently occurred in 2017. It also is not the first time this film has been told either. The award-winning Walt Disney film Night Crossing by Delbert Mann , which starred actors such as John Hurt, Doug McKeon, Jane Alexander and Beau Bridges, was a memorable hit. It is interesting that recently I ran into two ladies, who were telling me that this 1982 version was their favorite film when they were young. Any film with a hot-air balloon has a magical atmosphere and this film is no different. The creating of the balloon feels like an effort of a labor of love and determination rolled into one. Although this is one of the most creative escapes stories out there, this film has taken out the suspense. Everything was too predictable. Even the storyline never builds up enough momentum to keep us involved in their escape. The original event took far more risks then the telling of their story in this film. It is a shame, since the use of fear and the two families who bonded together, risking everything to make this journey, is an amazing story. I would not recommend seeing this film except maybe with children who would like a visual balloon ride and to learn about the former DDR. (Shelly Schoeneshoefer)



| | |
| --- | --- |
| | Black Widow (2021) |
| | Bleeding Audio (2020) |
| | |
| | |
| | Die Olchis: Willkommen in Schmuddelfing (The Ogglies, Smelliville) (2021) |
| | |
| | Niemals Selten Manchmal Immer (Never Rarely Sometimes Always) (2020) |
| | Niemals Selten Manchmal Immer (Never Rarely Sometimes Always) (2020) |
| | Peter Hase 2 - Ein Hase macht sich vom Acker (Peter Rabbit 2: The Runaway) (2021) |
| | Quo vadis, Aida? (2020) |
| | The Father (2020) |
| | The Father (2020) |
| | Cortex (2020) |
| | |
| | Mulan (2020) |
| | |
| | |


Would you like to receive a list of all the current month's film releases -- with links to reviews by the KinoCritics -- delivered right into your email box? If so, click
here
to subscribe to the
KinoCritics Newsletter
. We'll email it to your inbox at the beginning of every month.