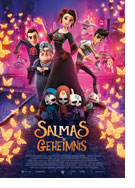 As long as Salma (Cristina Milizia) can remember, people have been telling her what not to do. So now, unbeknownst to Nana (Susana Ballesteros), she coerces foster brothers Pedro (Luis Dubuc) and Jorge (Joe Hernandez) to accompany her to a mysterious island off Santa Clara. Lovable and loyal friends, they understand Salma's desire – the unexplored island may be the key to finding her parents, and past. With the Dia de Muertos celebrations underway, time is of the essence. Proceeding cautiously, Pedro stumbles on an important clue; Salma discovers an old, leather-bound book, plus the secret to its usefulness. Spells unleash a tiger that inevitably lead to Morlett (Carlo Rota), and separates them, whereby her protectors' end up in the "last stop." Belatedly Salma grasps Nana's warning, "Don't play with death." She is looking for answers and harmony, but not at the expense of the "circle of life."
Carlos Gutiérrez Medrano directed the delightful, richly drawn animation that was inspired by a short story by Columbian author Gabriel García Márquez, the 1982 Nobel Prize in Literature winner. El Día de los Muertos (The Day of the Dead), is an important Mexican holiday over 3,000 years old and steeped in rituals (Mesoamerican), religion (European), and culture (Spanish). The syncretism of those three forces—"magical realism"—permeates Salmas Geheimnis. Portrayed in vibrant colors and textures favored by Production Design (Ricardo Niño, Mora Mario Ruiz), and Art Direction (René Córdova, Ricardo Niño Mora, Mario Ruiz), it is the animation teams and editor Yadin Salmerón that coalesce everything into this otherworldly and wonderful film.
Every year commemorations occur November 1-2 worldwide, varying from merry festivals to somber occurrences. For example, in San Francisco, California, USA people solemnly march around a city block; the four corners are adorned to represent Earth, Wind, Fire, and Water. In contrast, Santa Clara's citizens and families' lively fiestas celebrate life and death, and life's continuation. Just as, Salmas Geheimnis is good cinematic fun for families. (Marinell Haegelin)





Would you like to receive a list of all the current month's film releases -- with links to reviews by the KinoCritics -- delivered right into your email box? If so, click
here
to subscribe to the
KinoCritics Newsletter
. We'll email it to your inbox at the beginning of every month.