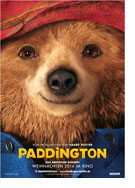 British explorer Montgomery Clyde discovers some unusual bears in Peru. They become friends and he leaves them with his hat, a taste for orange marmalade and a standing invitation to visit him in London. Some years later young Paddington is born; he lives with his Aunt Lucy and Uncle Pastuzo and they have created quite a remarkable orange marmalade business. An earthquake breaks up this small family and Paddington travels as a stowaway on a ship to London in search of Clyde. He lands in Paddington Station, like some war orphan in need of protection. Mrs. Brown overrides her husband's opinion and takes him in for one night, to the joy of her two children Jonathan and Judy. Living with a new family in a strange country is not easy (we expats can definitely relate). Will Paddington even survive one night? The story unrolls with an angry predator in the form of a beautiful, blond woman named Millicent on the one hand and help from the housekeeper Mrs. Bird as well as the owner of an antique shop Mr. Gruber, on the other hand.
Paddington is a bear, the main character in more than 20 books by Michael Bonds, illustrated by Peggy Fortnum. He came into life in 1958 and became so famous and well-loved that today there is a bronze statue of him at Paddington Station in London. Although he has starred in two animated TV series (1975 and 1985), this is the first film where Paddington interacts with real actors. Although Paddington is now 56 years old, there is nothing old or moldy about the film. It is fresh, modern, fast-moving, suspenseful, and fun for everyone from six to 106. The sets are exquisitely detailed and each actor is recognizable in a certain color combination. I was completely captivated and am trying to speak bear language as well as Judy does, although my neighbors have complained about the noise. I have even started carrying a sandwich in my hat for emergencies. You never know. (Becky Tan)





Would you like to receive a list of all the current month's film releases -- with links to reviews by the KinoCritics -- delivered right into your email box? If so, click
here
to subscribe to the
KinoCritics Newsletter
. We'll email it to your inbox at the beginning of every month.