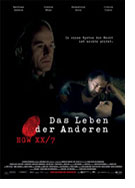 Germany has a talented new filmmaker: Florian Henckel von Donnersmarck, and this film, his first, has just won the Bavarian Film Prize for the Best Actor (Ulrich Mühe), Best Script and Most Promising Director (von Donnersmarck) as well as the seal "Especially Worthwhile" for the film.
Von Donnersmarck delivers the story of life in the former DDR but, unlike its predecessor Good Bye Lenin, this is no comedy. The film explores, without inhibition or moral confusion, exactly how devastating the unrelenting surveillance of a police state is to the lives of the people who must live under such regimes. From those who spy to those who are spied upon – and that covered nearly everyone in East Germany – the consequences are devastating. The film is a suspenseful thriller, a poignant love story, and a searching and affecting psychological portrayal of its main characters.
The Stasi captain, Gerd Wiesler (Mühe), is assigned to spy on a successful playwright, Georg Dreymann (Sebastian Koch) and his companion, the actress Christa-Maria Sieland (Martina Gedeck of Bella Martha, who is brilliant). Wiesler thinks at first it will be a boost to his career, but his ambitions change as he witnesses the love and trust between Georg and Christa and the group of artists around them.
The film's beginning, first an interrogation and then a school for Stasi spys, seems staged and implausible, but then the film takes on detail and a gripping intensity that turns the stomach (especially in light of the NSA's eavesdropping activities in the USA these days). Von Donnersmarck spent eight years researching his film in the Stasi archives in Berlin, and Ulrich Mühe, who grew up in Saxony under the repressive regime, remarked in the press notes that, in his opinion, none of the film is the least bit exaggerated. It is a chilling revelation. (Adele Riepe)





Would you like to receive a list of all the current month's film releases -- with links to reviews by the KinoCritics -- delivered right into your email box? If so, click
here
to subscribe to the
KinoCritics Newsletter
. We'll email it to your inbox at the beginning of every month.