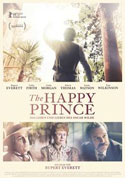 Rupert Everett's debut film's topic and treatment is spot-on in this poignant look at Oscar Wilde's waning years. As Wilde, Everett fills the tactile, posh onscreen space to overflowing with his mesmerizing performance as the loquacious Irish playwright, once the darling of turn-of-the-century London.
Following an eventful and well-publicized scandal and imprisonment, Wilde is forced to live out his life in exile. His good friends, Reggie Turner (Colin Firth) and Robbie Ross (Edwin Thomas) try to help. Flashbacks, plus sliding back/forth on the timeline, hint at Wilde's fame and family life. Constance (Emily Watson) still cares, sending a monthly allowance to her husband with but one condition. Oscar is oblivious to advice; Bosie (Colin Morgan) arrives and debauchery reigns. Considering his abundant charm and wit, Oscar wiggles his way through most adversities, until he meets another good Irishman, Fr. Dunne (Tom Wilkinson).
The seasoned cast wonderfully portrays their distinctive characters. John Conroy's ambient cinematography combines with Brian Morris' production design, Renate Schmaderer and Bernard Coyette's art direction, and the attentive set dressers infusing turn-of-the-century splendor and squalor in this biopic. Editor Nicolas Gaster weaves the threads into a lush tapestry that Gabriel Yared drapes with comparable music
As writer-director, Everett overlooks one point, and it is a whopper. The screenplay's premise presumes audiences know who Oscar Wilde is; should that not be the case, the film's effect will be that of a damp squid. By concentrating on the author's final years, flashbacks only pertain to this time-period's relevancy.
Oscar Wilde's legacy includes plays, poetry, epigrams, his popular novel, Dorian Gray, and the tempestuous events that led to an early grave. A proponent of the Aesthetic Movement, Wilde's dry wit and humor oft-scandalized public sensitivities; Everett's screenplay takes swipes at Victorian England's hypocrisies. Wilde's slide into disgrace might be explained as a tactless disregard for discretion, whereby The Happy Prince depicts what comeuppance delivers when, "I saw the future." (Marinell Haegelin)


Another Opinion

It's a triple whammy. Rupert Everett wrote the screenplay, directed the film, and superbly played the main role of Oscar Wilde in his declining, dying days after fleeing English soil for France.
Disgraced Oscar Wilde (Rupert Everett), a flamboyant, once heralded playwright, absolutely adored by the literati in Victorian London, has just been released from prison, when he bolts to the continent in May 1897 under the pseudonym Sebastian Melmoth. His two most loyal and devoted friends Robbie Ross (Edwin Thomas) and Reggie Turner (Colin Firth) meet him there, but are soon cast aside. Having found religion while incarcerated for two years, he quickly loses it again when the dashing Bosie, Lord Alfred Douglas (Colin Morgan) turns up to rekindle their romance. It was his affair with the saucy, spoiled aristocrat that landed him in prison in the first place with a conviction for "gross indecency with men." Make no mistake about the power of confessional contrition, when Wilde sees Bosie on the train platform in Rouen, he dissolves into a puddle of tears. Wilde will have to wait till his deathbed to get the final absolution.
There are flashbacks upon flashbacks embedded in flashbacks. Narration of Wilde's children's book The Happy Prince delicately weaves a unifying thread throughout the film and works as a metaphor for love and sacrifice. The moviegoer gets elated along with Wilde during his glory days in London only to be dragged down in the squalor of poverty mixed with "purple moments" and absinthe in Paris. Then back it goes again to a younger Wilde reading the story of the Prince to his two young sons in idyllic family harmony. Only next to see him romping with Bosie on Christmas with a roomful of fetching young Italian gods playing a combination of musical chairs and strip poker. Next Wilde is back in the slums of Paris reciting the story of the Prince in French to two enchanted and not so innocent street urchins. Through the lens of topsy-turvy time it all begins to make sense both chronologically and philosophically as Oscar Wilde's effigy, like the Prince's, is denuded of all its gold and jewels; in the end only his heart is left.
The author of The Importance of Being Earnest, one of wittiest English language plays ever written, still has his moments of mirth. Lying close to death in Paris in a hopelessly decorated bedroom, Oscar Wilde looks up and drolly states: "My wallpaper and I are fighting a duel to the death. One of us has got to go." (Pat Frickey)


Another Opinion

The Irish playwright Oscar Wilde fell foul of Victorian standards of behaviour and suffered horribly as a result. This movie, whose title is taken from his children's story of the same name, charts the last few years of his life. Rupert Everett plays this man of letters, this witty raconteur and famous playwright and he plays him to perfection.
The movie begins when Mr Wilde leaves prison after serving two years of hard labour for acts of 'gross indecency'. He must live in exile on the continent of Europe and there he is cared for by his good friends Reggie (Colin Firth) and Robbie (Edwin Thomas). At first all goes well, but Mr Wilde is haunted by his experience of prison and by not seeing his wife Constance (Emily Watson) and their two little boys. He is particularly traumatised by an incident which took place on a London railway platform as he waited to be escorted from one prison to another.
A series of flashbacks show Mr. Wilde's successes on the London stage and contrasts them with his physical and mental decline after prison. He spends time with his friends in Northern France, where his health seems to improve, but soon he is in Italy with Bosie (Colin Morgan) the aristocratic young lover at the centre of his trial. Later, when he leaves Italy for Paris, it is difficult to recognise the brilliant man of words in the wretched, broken man who seems bent on his own destruction.
Rupert Everett combines wonderful acting with fine directing in his first attempt at combining both. He plays the flamboyant character with sympathy and pathos and sets him against backgrounds which are both evocative and realistic. He brings to life the French music hall of the time and the decaying Italian palazzo which mirrors his decline. By telling his story, The Happy Prince , and singing a Victorian music hall song ,"The Boy I Loved was up in the Balcony," and repeating them throughout the movie, he underlines Oscar Wilde's torment. The theme of the movie is an unhappy one which is beautifully told and sympathetically acted. This is a niche movie which will have a limited audience but those who see it will be well rewarded. (Jenny Mather)



| | |
| --- | --- |
| | A Thousand and One (2023) |
| | |
| | Barbie (2023) |
| | |
| | Close (2022) |
| | |
| | |
| | Der Gestiefelte Kater: Der letzte Wunsch (Puss in Boots: The Last Wish) (2022) |
| | Die Bologna Entführung - Geraubt im Namen des Papstes (Kidnapped, Rapito) (2023) |
| | |
| | |
| | DogMan (2023) |
| | EO (2022) |
| | |
| | Holy Spider (2022) |
| | Indiana Jones und das Rad des Schicksals (Indiana Jones and the Dial of Destiny) (2023) |
| | |
| | Minions: Auf der Suche nach dem Mini-Boss (Minions: The Rise of Gru) (2022) |
| | Mission: Impossible Dead Reckoning Teil Eins (Mission: Impossible - Dead Reckoning Part One) (2023) |
| | Moonage Daydream (2022) |
| | |
| | Oppenheimer (2023) |
| | Oppenheimer (2023) |
| | Seaside Special (2023) |
| | |
| | She Said (2022) |
| | Tár (2022) |
| | The Magic Flute - Das Vermächtnis der Zauberflöte (The Magic Flute) (2022) |
| | The Northman (2022) |
| | |
| | The Whale (2022) |
| | Thor: Love and Thunder (2022) |
| | |
| | Uncharted (2022) |
| | Unsere Herzen, ein Klang (2022) |
| | |
| | Victim (Obet) (2022) |
| | |
| | |
| | 20.000 Arten von Bienen (20,000 Species of Bees, 20.000 especies de abejas) (2023) |
| | Air - Der große Wurf (Air) (2023) |
| | Amsterdam (2022) |
| | Anatomie eines Falls (Anatomy of a Fall, Anatomie d'une chute) (2023) |
| | |
| | |
| | |
| | |
| | Das Blau des Kaftans (The Blue Caftan, Le bleu du caftan) (2022) |
| | |
| | |
| | Joyland (2022) |
| | |
| | Massive Talent (The Unbearable Weight of Massive Talent) (2022) |
| | |
| | Nostalgia (2022) |
| | The Creator (2023) |
| | The Inspection (2022) |
| | |
| | |
| | |
| | Tótem (Totem) (2023) |
| | Vermeer - Reise in Licht (Close to Vermeer, Dicht bij Vermeer) (2023) |
| | |


Would you like to receive a list of all the current month's film releases -- with links to reviews by the KinoCritics -- delivered right into your email box? If so, click
here
to subscribe to the
KinoCritics Newsletter
. We'll email it to your inbox at the beginning of every month.