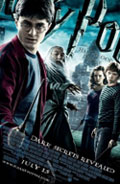 Director: David Yates
Writers: Steve Kloves (Screenplay) and J. K. Rowling (novel)
Principal Actors: Daniel Radcliffe, Michael Gambon, Jim Broadbent, Bonnie Wright, Rupert Grint, Emma Watson, Alan Rickman
Harry Potter and the Half-Blood Prince is based on the sixth book of J. K. Rowling's Harry Potter series. Loosely based I should say, because after the first scenes showing Death Eaters terrorizing London, we soon find out what's really important in this film: romance and humor. Consequently, Harry (once more believably brought to life by Radcliffe) flirts with a pretty girl during the Death Eaters' attacks, and Dumbledore (Gambon) practically has to drag him away and remind him of his duties. From then on, the sixth Harry Potter film is mostly a romantic comedy about teenagers in love, and as such, a pretty good one. Red-haired Ron (Grint) gets more than his fair share of love and complications, which gives Grint a chance to show his considerable comic talent. But wasn't there something more to the story of Harry Potter and the Half-Blood Prince? Something like the conflict between good and evil?
Indeed, the young wizard with the zigzag scar can't focus exclusively on his romantic feelings. Harry dutifully helps Dumbledore to recruit Professor Horace Slughorn (great addition to an impressive cast: Oscar winner Jim Broadbent) as the new Potions teacher and risks his life hunting for Voldemort's hidden horcruxes. But no matter how threatening, disturbing or heart-breaking the situation may be, the film just doesn't explore these aspects of the story. Unlike Rowling's book, which is complex and at times pretty dark, the film mostly seems to aim at being a light teen romance.
You'll like this film, if what you want is romance, humor, and "Harry Potter light." (Christa Greiff)





Would you like to receive a list of all the current month's film releases -- with links to reviews by the KinoCritics -- delivered right into your email box? If so, click
here
to subscribe to the
KinoCritics Newsletter
. We'll email it to your inbox at the beginning of every month.