2nd Talent Campus

by Becky Tan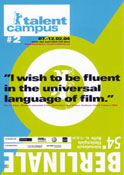 The second annual Talent Campus brought together young film students and seasoned film makers for six days. They met at the House of World Cultures, the building in the Tiergarten Park known as the "pregnant oyster."
The average age of the "young" people was 29, so I can't really compare the event to Girls' State or band camp, but the atmosphere was similar just the same. Of 3600 applicants, 520 from 84 countries were chosen to interact with film greats like John Cale, Stephen Frears, Anthony Minghella, Alan Parker, Frances McDormand and Mike Leigh. The young producers, directors, screenwriters, cinematographers, actors, editors, sound designers and composers got free accommodation, travel subsidies, and festival accreditation.
Twenty-two scriptwriters met professional script consultants in one-on-one sessions. Eleven young critics reviewed films daily for the in-festival magazine. Workshops included: understanding story expectations, finding an agent, casting, colors in music, film sets, cinematography of The Lord of the Rings, and The Magdalene Sisters: How to get the Church to Finance your Film. Four short film scripts from 257 submissions were made into digital films during the week.
Looking for potential students, film schools distributed information. One was the Hamburg Media School, located at Finkenau 35 in Hamburg. They offer a degree in film or a media MBA after two years. It was founded by Hark Böhm, and this year's prize winner, Fatih Akin, is a lecturer.
A limited number of accredited journalists (about 10) were allowed into these events at any one time. I attended the panel discussion How I Learned to Stop Worrying and Love the Critics. The moderator was Englishman Peter Cowie, author of many books on film, visiting professor at universities, film critic, and founder of the International Film Guide in 1963. He very expertly negotiated questions among the panelists: Ken Loach, a British director with a film in this year's competition, Ae Fond Kiss; Derek Malcolm, a long-time critic for The Guardian, Aruna Vasudev, editor of a magazine on Asian cinema in India, and Chris Fujiwara from the Boston Phoenix.
The panelists criticized critics. They dislike film critics who refer to film trivia nobody knows ("The emotions bubbled like the pot that boils over 14 minutes into Hunky Dory, 1948."). They dislike the "celebrity critic novelist who shows off in print." They said critics should know their audiences and not make readers feel inadequate because they know less than you do. They reject little stars or some similar symbol (used in Currents) for rating films. They agreed that there are many awful critics as well as directors and that they deserve each other.
Derek Malcolm manages to refrain from a bad review by saying "Very Interesting," or "You've done it again." He said that every filmgoer is a critic. The difference between the average film audience and him is that the former will say, "That was a shitty film." He will say, "That was a shitty film, and I'll tell you why." Readers soon recognize the prejudices of a certain critic. "Oh, she always hates Westerns." "She has a thing for Tom Cruise."
Perhaps editors are to blame for bad critics. Editors are driven by finances, and what sells is good, even if it's bad. As a result good articles get cut; critics receive instructions from on high to tout a bad film just because it is from Hollywood; they must target a mass audience. They are not the master of their column. (Compared to many publications, critics from KinoCritics, Currents, Top Info, and www.awchamburg.org are in the unique position to write what they please.)
A good critic should: make people love cinema and encourage them to see better films, encourage the use of second languages in an effort to prevent their extinction, discuss the implication of the film's subject matter and content on world affairs (Black Hawk Down was an example), and know the history of film. With the era of independent online writing, film criticism has already become broader.
Derek Malcolm is my hero. I've been reading his reviews for years. Like a tittering groupie I told him that he and Anthony Lane were my favorites. He more or less left me standing at his feet at the stage and walked off saying, "We aren't a bit alike." He is the honorary head of FIPRESCI, which is the International Organization of film critics. During the Berlinale nine critics, including Malcolm, rated the films in competition (with little stars which they detest). At the end of the event, it looked like their favorite would be Greek director Theo Angelopoulos' The Weeping Meadow, with Intimate Strangers, Monster, and Before Sunset coming in next. But in the end, they surprisingly agreed with the official jury and voted for Head-On by Fatih Akin.