Meet the Director

by Becky Tan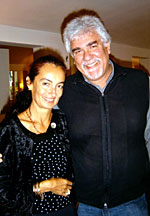 Alberto "Chicho" Durant flew in from Peru to promote his film The Con Game, which was shown in the Vitrina or Spanish-speaking part of the festival. He joined us for an exclusive lunch. We were lucky that his very best friend from Peru, Coppelia Hays Branscheid, now lives in Hamburg and is a KinoCritics critic. Durant is such an outgoing, expansively expressive and interesting teddy bear that he probably would have joined us for lunch even without our good connections.
Coppelia dragged him to the Grindel cinema to the showing of his film, which he's seen many times. "I would endure torture with Coppelia, and so I saw my film again under protest." Some films were not so lucky; he even walked out on an Argentinean film, even though the director was sitting directly behind him.
Durant is an experienced festival guest, having gone to Cannes, Venice, San Sebastian, Berlin, and Montreal. His newest film, The Con Game, was one of 30 films chosen from a total 800 to appear in Sundance, the very first Peruvian film ever in Sundance. The Con Game was inspired by the inglorious end of Peru's Japanese President Fujimori. Durant said, "He was truly loved by the people. What they didn't know was that he was big time mafia; he robbed the country of billions of dollars and only a fraction has been retrieved from Swiss banks. When the king feasts, the people sin, or as Groucho Marx said, 'I have my principles and if you don't like them, I have others.'"
Peru has an active film industry and a loyal film audience and foreign films are dubbed. Durant likes the following joke about Russia: They made 800 films and the president said, "How many were good?" "Only 30." "Good, we'll save money and make 30 next year." The next year, the same question: "How many good films this year? Only five? Next year we can do with five." That year, again, "How many good films?" "None, Mr. President." And that was the end of cinema in that country. His all-time favorite film is Babette's Feast from Denmark; his least favorite director is Quentin Tarentino.
Born in 1951, Chicho Durant studied at Rice University in Texas, U.S.A. Although economics was his major, he took a required course in the arts, specifically in movie appreciation for which he had to watch many films. At the same time, Roberto Rosselini was a guest professor at Rice. Durant also walked out of a Rosselini film, only to meet him in the men's room. "I'm glad that you walked out of my film," said the great Italian director, "otherwise, I wouldn't have met you." Little did Durant know that this meeting would plant a seed which would blossom eight years later and they would become colleagues.
After graduation he returned to Peru to work in a bank and "help third world countries, but I was disillusioned. Banks only help corporations, so when I had the opportunity to go to Belgium and then England to film school, I went. Actually, you don't need to attend film school to learn this craft, although film school is important for networking with peers. There are two types of filmmakers: poetic and narrative. Rosselini and I make cinema of narration. I write to tell stories. Whether anyone sees or likes them, I'll die a storyteller." His first film Ojos de perro (Eyes of a Dog) appeared in 1981 and he has been busy ever since. The Con Game is his fifth film.
He has visited Hamburg once before and asked us the usual questions about "surviving in Hamburg's weather." The festival office appointed a personal minder to guide him throughout his stay. He was full of praise for the terrific organization of Hamburg's festival and sad to return to Peru after just four days.