The Critics' Choice Films

by Mary Nyiri
Four prominent Hamburg film critics were invited to choose a film for the Prize of the Hamburg Film Critic (Der Preis der Hamburger Filmkritik) out of twelve films from twelve different countries. The critics included Lars-Olav Beier from Der Spiegel, Bernd Teichmann from Stern, Volker Behrens from the Hamburger Abendblatt and Dr. Frank Fingerhut from NDR 90,3. The prize was intended for an unusual, original view of the present. The films selected for consideration were:
Adam's Apples, Denmark
In this black comedy a neo-Nazi finds redemption in an apple pie.
Bashing, Japan
This film based on a true story tells of a young woman who returns home after being held hostage in Iraq only to find herself imprisoned by insults and prejudices of her friends and neighbors.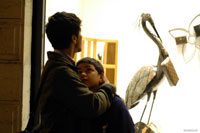 Brudermord (Fratricide), Germany/France
Two Kurdish brothers seeking a new life in Germany instead find senseless suffering and death.
Cinema, aspirinas e urubus (Cinema, Aspirins and Vultures), Brazil
Set in 1942, a buddy road movie of two men driving around the Brazilian countryside selling aspirin, discus-sing the war and struggling to make a living while vultures circle above.
L'Iceberg (The Iceberg), Belgium
A fast food restaurant supervisor looks for fulfillment from an iceberg after being locked in the freezer in this quirky comedy.
Iron Island, Iran
Poverty-stricken Iranians seek refuge on a sinking oil tanker and find a new life in this drama.
Janem Janem, Israel/France
After experiencing the horrors of war, a former soldier searches for the meaning of life in the immigrant community that thrives in his home-town of Tel Aviv.
Mad Hot Ballroom, USA
True heartbreak and touching comedy in this documentary which follows several classes of New York public school students as they compete in a ballroom dance competition.
La Moustache, France
When you shave your mustache, you expect people to notice, but what does it mean when they don't?
La Nuit de la vérité (The Night of Truth), Burkina Faso
Civil war spawns atrocities in this African film where people talk of ceasefire but believe that "as long as blood is not revenged, the dead stay on earth."
La sombra del caminante (The Wandering Shadows), Columbia
Two social outcasts find friendship and overcome their tragic past together.
Tout un hiver sans feu (One Long Winter Without Fire), Switzerland
A couple who lost their daughter when their farmhouse burned down struggle to move on during the long, gray winter.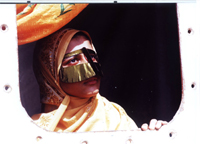 This eclectic collection of films begs the question of how one can compare and contrast them to find just one which best presents an unusual, original view of the present, particularly when one film is set in 1942. Dr. Fingerhut, however, spoke for all four critics when he said that, with little hesitation, their favorite of the twelve films was Iron Island from Iranian director Mohammad Rasoulof. The exceptional location for most of the action was an old, rusty oil tanker anchored off the coast of Iran in the Persian Gulf, which served as a provisional home for uprooted families fleeing poverty. On board the crowded ship people lived, loved, died and learned without paying at-tention to the sinking of the ship. The unusual scenery, storytelling, creative screenplay, expressive actors and unforgettable pictures made this film the critics' choice.
The competition was very tough indeed. How can anyone not truly enjoy watching kids emulate adult sensuality as they practice ballroom dancing, make funny faces and throw tantrums? Most kids had not yet learned the art of deception, and their real emotions are painfully all over their faces. You feel a bit teary-eyed for the losers and even more so for the winners leaving the theater with a sense of happiness. I would recommend Mad Hot Ballroom to all my family and friends or even a stranger at the theater ticket counter wondering which film to see.
On the other hand, the pure suffering of society outcasts would not have such universal appeal but makes no less a terrific film in La sombra del caminante. This movie was filmed in black and white and takes place on the streets of Bogotá where many poor and suffering people try to earn a living. One-legged elderly Mañe cannot find work, and through his evolving friendship with a silletero who carries people on a chair on his back to earn money, we learn how both men have suffered from civil war and the antipathy of strangers. The harsh realities of their situations and cruelties of their country reveal a compelling story of goodness and evil, forgiveness and the unforgivable, which haunts long after you have seen the film. Such outstanding films deserve mention even when they do not win awards.
My colleagues' favorite film varied greatly from the prize winner. Rather than a very serious film about the suffering of a group of impoverished people trying to live off a sinking ship, their choice was a black comedy about a pastor and a criminal each living their beliefs to the extreme. In Adam's Apples, Neo-Nazi Adam must fulfill his community service duty at a parish where he must care for an old, famous apple tree, and the pastor asks him to bake a pie from the apples. The tree is plagued, which Adam blames on God and the pastor blames on the Devil. Karen Pecota explains this favorite choice: Danish director Anders Thomas Jensen's film was inspired by the book in the Bible called Job. Jensen's hilarious accounting of such a tragic real-life story was brilliantly written and performed. It's totally comic relief with class! This is a must-see film that you will never forget nor tire of because of its creative style and integrity.
My favorite of the twelve films was Brudermord, which addresses the plight of two Kurdish brothers who move to Germany to earn money for their family. Semo is a pimp and lives a very fast life with a fancy car and pretty girls. His younger brother Azad has no respect for Semo because he takes money from prostitutes. Azad earns a little as a barber. While looking out for Ibo, an orphan Kurdish boy, Azad angers a Turk. Later at a chance meeting on the street, a confrontation ensues, ending in the death of the Turk and the involvement of the German police. In addition to the current tensions between Kurds and Turks living in Germany, the film also touches on their treatment by the Germans. So many aspects of this film are outstanding. To illustrate a few, the film was more like watching live action than storytelling. The violence was abrupt and shocking, but totally necessary. The emotions were raw, touching me so personally that the fictional characters engendered my pity for Azad and real agony for Ibo. Although all the terrific films at Filmfest Hamburg cannot win awards, Brudermord will definitely win many hearts with the relationship between Azad and Ibo, who choose to be brothers in a foreign land.