Hyatt FilmTalk

by Becky Tan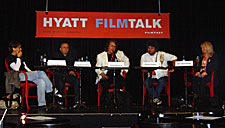 British film critic Phillip Bergson returned this year for his third year as talk master of the Hyatt Filmtalk. This took place over six nights at the Kammerspiele Theater at 22:30 and always in English. Mr. Bergson is fluent in many European languages (including ancient Greek and Latin, if necessary) and guided his guests from Austria, Israel, France, Germany, the Netherlands, Norway, Denmark, the USA, Burkina Faso, England, Columbia, Belgium, Canada, China, Spain and Tunisia through discussions about film making.
The Chinese producer of Electric Shadows, Catherine Yeung, was a vivacious young woman who said that the Chinese authorities are now more open when handing out permits to make films. A short synopsis of the plot is sufficient for approval. Seventy copies of Electric Shadows are available for China, where the film has not yet appeared; a cinema ticket costs 10 cents. Attendance is down in China. Thirty years ago there was no competition from TV or the internet, and this film revives that golden age of Chinese cinema.
Director Yilmaz Arslan, Brudermord, said that he originally wanted to make a documentary about young foreigners who came to Germany on their own. (An Arab born in Turkey in 1968, he immigrated to Germany in 1975 when he was seven years old.) In the end he wrote a fictional story on the same topic, which took ten long years to realize. Financing was the problem; the film went over budget. It was worth the trouble, winning a Silver Leopard Prize at the Lucerne film festival in Switzerland.
Julia Taylor-Stanley from Great Britian said that she had already been successful in the music business and had experienced working as a woman in a man's world as a record producer, so it was natural for her to direct a film, her first: These Foolish Things. Actors such as Terence Stamp were not hard to sign once they had read the script.
It's rare to hear criticism at these talk shows, but Mohamed Zran, a charismatic man who stood out wherever he appeared (including when he shouted suggestions from the audience at the final film), said that his experience directing Le Prince was "not good" in Tunisia. The opposite was true for Michael Eckelt and Peter Lohmeyer, producer and actor, respectively, for Obaba, which was filmed partly in northern Spain and which opened the San Sebastian film festival. Lohmeyer said that the Spaniards accepted him as their own and even "liked his German accent," part of the reason he was hired for the job. This was a German-Spanish co-production and, "German financers expect the money to stay, i.e., film, in Germany."
That evening, the last talk of the festival, Bergson and Lohmeyer went on a name-dropping spree: Les Enfants, Time of the Gypsies, Dolly Buster, Bagdad Café, Broken Flowers, Love Song for Bobby Long, Am Tag als Bobby Ewing Starb, Fargo, Hiroshima Mon Amour, The Godfather, Dirty Dancing, American Gigolo, Titanic, Pedro Almodóvar, Mar Adentro, Johnny Depp, Leonardo di Caprio, Springtime for Hitler, The Producers, No Man's Land, Peter Greenaway, Gong Li, Jackie Chan, and Head-On. I was so fascinated by their total recall that I forgot which point they were trying to make and now can't reconstruct it from this list. Out of breath, they managed finally to whisper, "Twenty-nine percent of all films are never again seen after festivals." This is manna for a film addict like me, because now I must research the unfamiliar names and titles.
These discussions are fabulously interesting. However, anyone who rises early to attend the first film of the day at 10:00 is not very peppy on the past-midnight train home after this talk show ends. How to make it more accessible to a broader audience at a reasonable time is a difficult question. The panelists are directors, actors, and producers who happen to be in Hamburg for the showing of their films that particular day. The talk show starts after most evening films are finished. Whether members of the audience must have seen the films to appreciate the discussions is also debatable. Those who have seen the films might have questions of their own, but experience shows that most do not. People who are unfamiliar with the films will certainly be curious about those films discussed. For example, after succumbing to the charms of the Finnish answer to Brad Pitt, Mikko Leppilampi, at the late night talk, I changed all plans and made a beeline to his film Harbour Brothers at Metropolis the next day.