S(ch)nackpunkt

by Becky Tan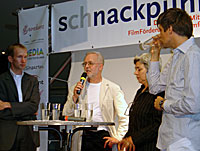 A free lunch awaited anyone who walked into Cinemaxx and listened to panel discussions on such topics as experienced ("old") actors working with young directors, documentaries, and prospects of independent European films. A fourth topic was Leinwand or Laptop, The Screen vs. the Computer discussed by Arne Schmidt (Cinemaxx), Mathias Elwardt (Abaton) and Heidrun Podzsus (Ventura Film distributor and Zeise) and moderated by Frank Fingerhuth (NDR 90.3). Their four main points were:
1. The only way to watch a movie is on the big screen in the cinema. There is a comradeship, a sharing of experiences, and oneness with the film that cannot be reproduced anywhere else.
2. If there are fewer viewers and therefore less revenue (some say 15-50% depending on the type of cinema or only 1.9 tickets sold per person annually), are Germans lazy or poor? Are DVDs the culprits? The public likes DVDs because they can possess them, stroke them, call them their own. They can watch at their leisure and stop and start every time the phone, the postman or the baby interrupts. Cost cannot be a reason as Abaton, for example, still charges only EUR 4.50-5.00 after seven years, and nobody thinks twice about paying EUR 95 for a Robby Williams concert.
3. Perhaps it is a film crisis and not a cinema crisis. In Germany the blockbusters open in the autumn rather than summer, e.g., coming up are Harry Potter and the Goblet of Fire in November and The Chronicles of Narnia in December. Not all Hollywood films appeal to Germans. Do they really want to see cheerleaders and football players? Two hundred million tickets sold for The Wedding Crashers in the U.S., but it bombed here. On the other hand Broken Flowers had the most successful start in three years. Alles auf Zucker sold a million tickets in Germany. Rhythm Is It has been running at Abaton for one year. Historically about 300 new films were released annually; this year there were 450, many of which are far from quality films. They should have gone straight to television or DVD. Other films should go much later to DVD, after having had a fair chance in the cinemas. Arne Schmidt said, "Most films have a cinema life of two to three weeks, unless they are huge successes, at Cinemaxx."
On another note, small cinemas face the financial burden of buying equipment to show films digitally as this method becomes more popular. At the same time, some films are still made the old-fashioned way, thus requiring dual projection systems.
4. There are ways to encourage cinema-going. The press can write constructively. Cinemas can send emails and letters to customers. Television stations such as ARD or ZDF should review films as part of the news. Mathias Elwardt said, "We need a modern version of that old 'Kennen Sie Kino?' (Know your cinema?) program. Also, we must thank the organizers of the Filmfest here in Hamburg; for the first time a mayor, Ole von Beust, will not only attend, but present a prize (and give a speech) at the final film. Have you ever seen a Hamburg mayor at an important film event before?" According to Frank Fingerhuth, the festival raises cultural consciousness; quality is important. Heidrun Podzsus said, "Watching movies should start at school, and students should learn that film is art as well as commerce."
After all this serious conversation, I was ready for my free lunch. Mathias Elwardt was an especially well-prepared, optimistic and self-confident speaker. This time, contrary to last year, the PA system worked well under the able guidance of Axel Thomas.