Close Encounters of the "Festival" Kind

by Karen Pecota
Never a festival goes by without something unforeseen happening. I find that these encounters, or surprise discoveries, add the spice to what makes a film festival enjoyable. Of course, it is usually not only a "thing" like a film, but it is the people who make this experience so interesting. Here are just a few examples: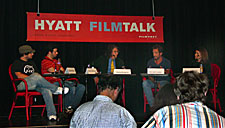 Americans at the Round Table
One of the most interesting events at the Festival was the Hyatt Filmtalk, located in the Logensaal of the Hamburger Kammerspiele. This Art-Deco style theater for live performances was the perfect setting for a staged talk show. Its attractive cabaret venue created a warm and inviting atmosphere, and that is why I had arrived early. I wanted to just sit quietly to relax for a few minutes while enjoying a nice hot cup of coffee before the program began. Slowly others began to drop in, so I got out my journalist tools of a notepad and camera, ready for a scoop.
Phillip Bergson, festival talk show moderator, opened with a welcome, mentioned that the theme for the evening would be "It's All About Dreams", and introduced the panel: American producer James Scolaro with Room, American directors Brian Herzlinger with My Date with Drew and Marilyn Agrelo with Mad Hot Ballroom, and French actor Vincent Lindon with La moustache.
To break the ice, Phillip asked Marilyn why she wanted to make a film about ballroom dancing with NYC kids. Was this a dream idea for her? She explained that she likes stories about New York and exploring cross-cultural situations. But, for the most part, the idea was taken from an article by her friend, Amy, which followed these kids on their journey. Her passion to tell this story was her dream. She had a fairly low budget except for the amount of money needed to get the rights to use the songs, which was over 50% of her budget.
Brian's dream was to make his first movie with $1100 that he won on a game show, and Drew Barrymore herself gave him a gift: a camera. Vincent's dream as an actor was to be able to act well enough to have the longevity to get jobs. James' dream was to have all original scored music in his film. Phillip continued to prod by asking, "What happens when our dreams go sour? Where are we going with our dreams? Is it about making our dreams come true? What is the power of the film, documentary, or acting?" Phillip was ingenious, maneuvering in and out of the Q&A with his wit and knowledge to create an invigorating discussion – even though one could imagine that a French-American discussion could, in and of itself, be lively enough. Phillip's last question to the panel: What was your favorite film? They answered without a blink of an eye: Husbands for James, Hannah and Her Sisters for Marilyn, E.T. for Brian and White Heat for Vincent.
Over an hour of animated dialogue with these people seemed like only a few minutes. I can understand why this venue is a well-known favorite of the Filmfest Hamburg. I'll definitely be back!
Hey, that's My Neighbor!
One of my goals for this year's Filmfest Hamburg was to attend as many of the German made-for-TV films as possible. These were shown each evening at 19:00 and 21:00. The German-made films have a different style that appears more intense, even with their humor. However, I enjoy that the production companies are not afraid to cast women who are graciously middle-aged. I am impressed with the respect that the "bigwigs" have for mature acting, which tends to bring to the screen a quality and integrity. This is so natural and healthy for our society.
Each day of my festival schedule was filled with long hours of watching films, and I got tired and sleepy. I was sitting in a German film made-for-TV that dealt with a post-World War II subject matter, and even though I wanted to get a little shut eye, I forced myself to keep attentive. And was I glad I did! Towards the middle of the storyline, and rather suddenly, a lady appeared who resembled my neighbor. I gasped out loud, but embarrassed at my strange reaction, I sheepishly slid down into my theater chair hoping I had not disturbed those around me. I could not take my eyes off of this lady. She performed her character role beautifully. She was hilarious and a hit with the audience. Waiting anxiously for the credits to role, I saw her name appear. Hey! That was my neighbor! I was proud!
Julia's Party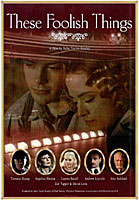 Julia Taylor-Stanley directed These Foolish Things, which had its world premiere here at this year's festival. Her after-show party, located in the Hamburger Kammerspiele's cozy bar surrounded by huge windows, was such fun. The party was very intimate with a variety of guests: journalists, directors, producers and friends. As we gathered to celebrate and wish her well with this new production, I was impressed with her sheer delight of hosting this gathering. Her gracious hospitality was so sincere, and as she welcomed each guest, she made sure they would be well cared for with treats and drinks. She took time with each of her guests as if they were the only one in the room. I felt very special and enjoyed the moments I had been given to talk with her about her film and her experiences. She was such a vibrant person that everyone wanted a piece of her, and we (our journalist group) felt lucky to have had the chance to connect with such a wonderful lady. As my kids get more involved in the business, I only pray that they meet good people like her with some savvy and integrity.