S(ch)nackpunkt

by Mary Nyiri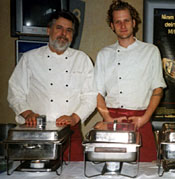 Yes, there is such a thing as a free lunch!
On Friday, September 24, a respectable mix of general public and journalists came to the lobby of Cinemaxx Dammtor for Hamburger Delikatessen, the first in a series of lunchtime open discussions. Catered by Borchers of Eppendorf, those attending had a choice of fish or meatballs served up on a tiny salad plate with a glass of mineral water or champagne to wash it down. Seated in between two ladies very much my senior, I wondered why they perched on the bar stools of the front table. Neither knew who would be speaking but both knew about the free meal. I located press materials for them both, but these were quickly pushed aside after the announcement that lunch was served. At least the lady to my right was polite enough to actually listen to the animated discussion between actor Moritz Bleibtreu and director Fatih Akin (Gegen die Wand) about making films in Hamburg and why funding should be increased, not cut. Ayse Polat, the director of En Garde also spoke. The lady to my left bolted after lunch, still chewing.
Two days later, on September 26, Eva Hubert, head of the Hamburg Filmförderung, introduced Hark Böhm, our guest for lunch. Böhm is a Hamburg film director who founded the Hamburg Film School 12 years ago. This school just joined forces with the Hamburg Media School in the former Finkenau hospital building. The media and film schools promote different subjects, but Böhm sees advantages to this merger of art and business, as well as savings by sharing the rent. He was adamant that the city uphold its usual generous support of new films through the Filmförderung. "There is no sense teaching kids, if they can't make a film, if their hard work is for nothing."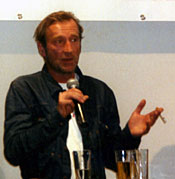 There was a big crowd on September 28, since German actor Til Schweiger was on the agenda. He just recently moved from the U.S.A. with his American wife and four children to reside in Hamburg-Niendorf. Schweiger was a no-show, having decamped to the Baltic Sea. However, we were not disappointed to see actor Peter Lohmeyer, who just appeared in a cameo role in Süperseks and was a huge success in Das Wunder von Bern. Marketing German films was the topic and mashed potato and egg plus a drink was our free lunch. Lohmeyer blamed the press for making light of film news, burying them in the middle of the publications. His dream is to appear on the cover of a major magazine. And why don't book stores sell DVDs? The press said that a film which opens in one or two cinemas with no accompanying celebrities in town is not news.
The technicians now have a year to repair their microphones in order to provide at least three that work well all the time, something that was lacking throughout these five days of snacking and talking (schnacken). In spite of technical problems, this was still a great, relaxed way in which to bring people together with film industry players for casual discussion, no matter what motivated people to come – food or famous people.