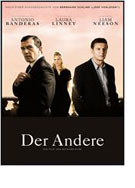 Der Andere (The Other Man)
U.S.A./U.K. 2008
Opening 1 Jul 2010
Directed by: Richard Eyre
Writing credits: Richard Eyre, Bernhard Schlink, Charles Wood
Principal actors: Laura Linney, Liam Neeson, Romola Garai, Antonio Banderas, Abigail Canton
The film opens with a view over Lake Como with superb cinematography by Harris Zambarloukos. Subtle tension rises when Lisa (Laura Linney) – happily married for 25 years – asks her husband Peter (Liam Neeson) "out of the blue" if he ever had the wish to sleep with someone else. Casually she admits that she would just quietly go away if she stopped loving him. Is she trying to tell him something? The next thing we see is Peter and their grown-up daughter Abigail (played by lovely Romola Garai) clearing out Lisa's cupboards. Has she gone?
Peter seems helpless and forlorn. After finding a piece of paper with the words "Lake Como," he gets suspicious. Looking for clues on Lisa's computer, he discovers evidence of a love affair. It turns him into a desperate, possessive and irrational person. With murder on his mind, he finds the good-looking, temperamental Ralph (Antonio Banderas) in Milan, Italy, and joins him in a small café for a chess game. Trustingly Ralph talks of his great love. Peter, who has been leading him on all along, tricks him into a meeting on Lake Como where he reveals his identity as Lisa's husband. But where is Lisa? We are in for a few more twists in the story – with jumping flashbacks – before realising that in the end nothing is like it seemed, not even the Latin lover.
Director Richard Eyre (Notes on a Scandal) based his film on one of Bernhard Schlink's short stories (his book The Reader became world-famous). This intricate movie adaptation from the "Liebesfluchten" collection tackles a variety of themes: secret love, jealousy, obsession, trust, as well as father/daughter relationship. Liam Neeson and Antonio Banderas, each as the "other man," are excellent opposites. Which one is Lisa's great love? (Birgit Schrumpf)


Second Opinion

"Is it possible to love two people at the same time?" This is the theme which director Richard Eyre constructs his movie around. The film is based on the short story Der Andere by the famous German author Bernhard Schlink. This love drama delves into the complex personalities that we all possess under the surface. What makes our hearts dance and our souls sing? The answer, of course, depends on the individual. On the exterior, in this successful marriage of 25 years, both partners have prosperous careers and are happy with each other. However, as the film progresses, we see that all is not as appears on the surface. In the end, it comes down to the acceptance of what is, for some things we will never know why nor comprehend completely. It is in stages of understanding that the movie unfolds to reveal its meaning.
A boat ride showing two white trails in the water, parallel on the surface, yet also turbulent, is a symbolic beginning to the movie. Lisa (Laura Linney), a shoe designer, meets her husband Peter (Liam Neeson) for dinner after a successful fashion show. Lisa appears to be off in her own world and asks the question that the film revolves around. Peter wonders if she is telling him something, but she says she is just asking and follows this up with "It is a choice, not a promise, to only sleep with one person." In time, Lisa needs to tell Peter her secret. The true power of red shoes is brilliantly presented as Lisa requests daughter Abigail (Romola Garai) to place a note with Lake Como in her shoe. As the movie evolves, the significance of this becomes clear. While Peter tries to unravel the mystery, he comes across Ralph (Antonio Banderas), a Spaniard with a dignified gentleman's facade who is fascinated with chess. It is through this game that Peter befriends him and puts the pieces of the puzzle together. As we travel in time, the scenery of Lake Como, albeit only snippets, is romantically portrayed and the music of Stephen Beck conveys amorous fulfilment. As Ralph states "We Spanish are passionate people."
This film touches upon the themes of love, betrayal and forgiveness and makes one wonder: how much do you really know a person. The ending is quite a happy one, especially if we focus on the transformation of the father-daughter relationship and the peace that comes with acceptance. Does it have to be either/or, can you love two people at the same time? Judge for yourself. (Coppelia Hays Branscheid)