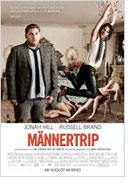 Männertrip (Get Him to the Greek)
U.S.A. 2010
Opening 2 Sep 2010
Directed by: Nicholas Stoller
Writing credits: Nicholas Stoller, Jason Segel
Principal actors: Jonah Hill, Russell Brand, Rose Byrne, Elisabeth Moss, Colm Meaney
Lucky for us, Nicholas Stoller (director) and Judd Apatow (producer) realized they had struck the jack pot when they brought out Forgetting Sarah Marshall in 2008. Now, two years, later, they have taken the best part of that film, namely Russell Brand in his role as Aldous Snow, and made him the star of Get Him to the Greek. They also brought back Jonah Hill to play, not another waiter, but Aaron Green who works for Pinnacle Records.
The story is a simple road movie: young Aaron, following the orders of his boss Sergio Roma (Sean Combs), has three days to accompany Snow from London to Los Angeles to perform at the Greek Theater in an effort to revive his fading music career. The two travelling companions couldn't be more different. Hill has a steady girl friend, Daphne (Elisabeth Moss), who is a young hospital intern; he hopes the trip will advance his own career in the recording business. Snow is a gregarious diva unused to a strict schedule; he hopes to reconcile with his ex-girlfriend, model and pop star Jackie Q (Rose Byrne) in California. Not without difficulty, they board a plane to New York and finally land in LA. Hindrances to a smooth journey are drug dealers, strange hotel rooms, fist fights, paparazzi, women, alcohol and even a side trip to Las Vegas where Snow's elderly hippie, musician father performs.
This comedy is outrageously funny. Highlights are, of course, Russell Brand in his skin-tight black leather jeans and Yves Saint Laurent boots and the final rock concert at the Greek theater where Brand, himself, sings. When asked about his role, Brand said, "I was plunged into water for seven hours. I had to hang off a building on a wire, had to mimic having broken bones, and was covered in vomit. I was in sexually compromising positions, and I had to take all manner of 'narcotics.' I performed live rock 'n' roll and recorded an album." I inadvertently thought of Sasha Baron Coen, who plays a similar figure as Brüno. Brand is definitely legitimate competition for Coen in any role.
Naturally, he had help with comedian Jonah Hill, although perhaps the threesome with Hill's girlfriend was not necessary. However, the writers intended for both figures to become better people, so "sharing" a girlfriend was perhaps a learning experience for Aaron Green, just as hitting rock bottom was a learning experience for Aldous Snow, who develops more mature expectations in the end. Sean Combs was the excellent surprise, in spite of the fact that his role was mostly to sit in an office and talk on the phone. Combs, as you probably guessed is Sean Puff Diddy/Daddy Combs, the U.S. rapper, record producer, fashion designer, and former boyfriend of Jennifer Lopez. He demonstrates his multi-talents as actor in this film. Musicians Christina Aguilera, Pink, Pharrell Williams and Metalica drummer Lars Ulrich, as well as journalist Meredith Vieira have cameo roles. I look forward to seeing the film a second time. (Becky Tan)