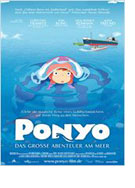 Ponyo - das große Abenteuer am Meer (Ponyo, Gake no ue no Ponyo)
Japan 2008
Opening 16 Sep 2010
Directed by: Hayao Miyazaki
Writing credits: Hayao Miyazaki

If you are looking for a typical Hollywood-style, predictable, cliché animated film, this isn't it. But if you want a unique animated film that charms you, dazzles you, and leaves you grinning and slightly confused, this is your film.
Japanese manga artist and Academy-Award-winning, animated-film creator Hayao Miyazaki returns with his latest creation Ponyo, writing, directing and lovingly hand painting many of the 170,000 separate images used to create this visually stunning film.
The storyline is a bit odd. A goldfish girl, who is kept together with her sisters in an aquarium under the ocean, wants to become human. Her father is strictly against this, so she decides to escape and learn about the outside world on her own. She lands on the shore of a village and is rescued by a little boy named Sosuke. During the rescue Sosuke cuts his finger, and the goldfish-girl heals his wound by licking it. He then takes her home, names her Ponyo and swears to take care of her.
Ponyo's father, an evil-looking character, retrieves her. Through the exchange of blood from the wound however, Ponyo becomes human and again escapes from her father's castle, accidentally spilling magic into the water in the process. This tips the balance of the universe and brings the world in danger. Ponyo makes her way back to Sosuke, where he and his mother take her in and teach her the ways of humans. Ponyo's mother, an ocean goddess, devises a plan to bring balance back to the world. But will Ponyo and Sosuke pass the test and save the world? Or will Ponyo be turned into sea foam?
Some of the characters and situations are not typical for a children's film. You won't see the subject of breast-feeding coming up in a Disney animation. Sosuke's mother drives like a maniac, makes some irrational decisions, and pops a beer after an argument with her husband. It is never clear whether Ponyo's father is evil or not, and how on earth did he get together with this goddess to have these weird goldfish children in the first place? But these quirks are part of the film's charm. Above all, this film is clearly made with love, and that shines through. We loved it. (Shelly Schoeneshoefer)