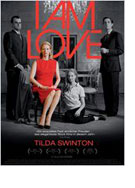 I Am Love (Io sono l'amore)
Italy 2009
Opening 28 Oct 2010
Directed by: Luca Guadagnino
Writing credits: Luca Guadagnino, Barbara Alberti, Ivan Cotroneo, Walter Fasano
Principal actors: Tilda Swinton, Flavio Parenti, Edoardo Gabbriellini, Alba Rohrwacher, Pippo Delbono
The opening scene finds the wealthy Recchi family gathered in an exquisitely decorated dining room surrounded by their well-trained domestic staff. It is Edoardo's (Gabriele Ferzetti) birthday, and the elderly patriarch announces his retirement, handing over the reigns of the family textile business to his son Tancredi (Pippo Delbono) and the eldest grandson Edo (Flavio Parenti). Edo's younger brother, Gianluca (Mattia Zaccaro), is left out and is not the only one puzzled by this decision. Slowly the viewer gets introduced to all the family members who seem to lead their own separate lives but are held together by the strict rules of the clan and their bourgeois upbringing. Tancredi's regal wife Emma (Tilda Swinton) oversees the household, organizes lavish dinners but stays aloof and withdrawn. Tancredi, now head of the family, is constantly working, spending much time on business travels. Their daughter Betta (Alba Rohrwacher) leaves to study art in London where she finds her new self and a new love. Good-looking Edo is occupied with his new wife Eva (Diane Fleri) but does not seem to find happiness. When Edo introduces his friend Antonio (Edoardo Gabbriellini), a gourmet chef helping out at a dinner party, Emma is intrigued and fascinated by his cooking skills. Through him she painfully discovers her true nature and the force of passionate love.
The story is based on an idea by Luca Guadagnino, co-writer and director, and inspired by Tilda Swinton. She is the focus of the film, bringing to her role an elegant and mysterious quality but also a fascinating naturalness. Maria Paiato as Ida, Emma's confidante, gives a warm-hearted, balanced performance and is overwhelming in her touching last scene.
Guadagnino's style is lavish and beautiful, reminiscent of the 1950s' movies. From the detailed décor of the mid-century mansion, the gentle preparation of food, the perfectly tailored wardrobe (by Jil Sander, Fendi) to the Italian countryside – it is a feast for the senses. The dialog is kept to a minimum, relying on superb acting, fantastic cinematography by cameraman Yorick Le Saux and John Adam's sophisticated music.
Some might not easily endure the deliberately slow pace and built-up of this grandiose, romantic melodrama leading to its stirring emotional finale. They might still enjoy the beauty of good quality. (Birgit Schrumpf)