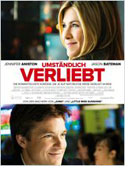 Umständlich verliebt (The Switch)
U.S.A. 2010
Opening 11 Nov 2010
Directed by: Josh Gordon
Writing credits: Allan Loeb, Jeffrey Eugenides
Principal actors: Jason Bateman, Jennifer Aniston, Jeff Goldblum, Juliette Lewis, Todd Louiso
Wally and Kassie are best friends. Kassie (Jennifer Aniston) is a lively, positive, beautiful woman, and Wally (Jason Bateman) is a neurotic, pessimistic guy. Both are singles and help each other through life. Just Kassie's decision to have a child without a husband is choking for Wally.
At her "I'm getting pregnant" party thrown by her best friend (a brilliant Juliette Lewis), something unexpected happens. But Wally can't remember a thing the next morning. When Kassie gets pregnant, she moves back to Minnesota to raise her son. Seven years later she returns to New York. Wally is still single, and they pick up their friendship. Wally meets her son Sebastian, a smart and slightly neurotic little guy. They get along great, and soon Wally starts to think Sebastian might be his son. With the help of his supportive friend and boss (the great Jeff Goldblum), he remembers what happened at that party and decides to confess not only that he is Sebastian's father but also his love for Kassie. In the meantime she met and fell in love with the original sperm donor though.
It all sounds funny and like a typical romantic comedy. But it is so typical, and not very comical, that it is even boring in parts. The end is as predictable as the rest of the film. The director duo (Will Speck and Josh Gordon) as well as the two producers (Ron Yerca, Albert Berger) didn't want to do a comedy with slapstick humor but more with the comical side of life and its characters.
One star is for the theme – a subject of our times – and the other for Jason Bateman, Jeff Goldblum and Juliette Lewis. (Tina Grieben)