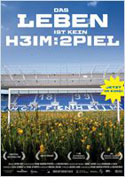 Das Leben ist kein Heimspiel
Germany 2010
Opening 6 Jan 2011
Directed by: Frank Pfeiffer
Writing credits:

Soccer is a big sport in Hoffenheim, Germany, a small community (population 3263) in the state of Baden-Württemberg and about 20 kilometers south of Heidelberg. In 2007 the local team was struggling in the third-tier regional league (Regional Liga Sud); a local resident, a real original nicknamed Torro, headed the only fan club. Then, in fairy-tale manner, along comes a German millionaire who hires business manager Jochen A. Rotthaus, builds a new stadium for 30,000 ticket holders (with "twice as many toilettes for the ladies") and spends five million euros on new players, including several from Brazil. This man is Dietmar Hopp, one of the five founders of the SAP software company and officially one of the world's richest men. A native of this area, he has a vested interest in the soccer team. This documentary by Frank Marte Pfeiffer and Rouven Rech shows the rise of the TSG 1899 Hoffenheim team to the second league and then by 2009 to the big league, where it actually became number one. (Now, December 2010, it is still in the top league, fifth out of 18 teams. My local Hamburg team is seventeenth.)
This is not about the soccer players themselves, although they appear often as a team on the field and in the locker room. Instead, Pfeiffer and Rech show the steady progress to the top, the realization of a dream, through the eyes of Hopp, Rotthaus, and Torro, i.e., the money, the management, and the fan. The final success is such a thrill – almost like Germany winning the World Cup in 1954. But the film also shows the difficulties, perhaps revealed by the title which translates to "life is not a home game." Outsiders are violently envious over the unexpected Hoppenheim fame, which they attribute to unfair financial transactions; they initiate a long-term verbal and legal attack against Hopp. Hoffenheim fan clubs spring up: seven, then 13, and finally 100. These people are no longer the good old boys out for a fun time in their club house, watching games on television, drinking beer and socializing; they are seriously organized and soon set new standards for soccer lovers, much to the dismay of the oldies like Torro, who don't recognize themselves in this group.
The directors commented that in the beginning they had no idea what progress Hoffenheim would make and where anyone would be at the end of filming. It could just as well have been a completely different film with failures, an empty stadium, and morose fans. As it was, they were lucky to be at the right spot at the right time and could document the rise of a small soccer team to the big leagues and the enthusiasm which rolled over Hoffenheim.
I am interested in soccer and therefore enjoyed this well-made film. I got teary-eyed when Hoffenheim reached the top of the league, and I mentally joined the fans as they waved flags and sang "You'll Never Walk Alone." That this Rodgers and Hammerstein song from the musical Carousel has become a standard soccer hymn (along with Queen's "We are the Champions") never ceases to amaze me. (Becky Tan)