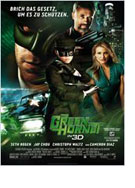 Opening 13 Jan 2011
Directed by: Michel Gondry
Writing credits: Seth Rogan, Evan Goldberg, George W. Trendle
Principal actors: Seth Rogen, Jay Chou, Cameron Diaz, Tom Wilkinson, Christoph Waltz
The original Green Hornet began as a radio series in Detroit in 1936, approximately the same time as another radio hero, The Lone Ranger. I listened to both series faithfully when I was in grade school in the early 1950s. It went on to become a comic as well as a TV series (with Bruce Lee playing the sidekick, Kato). Now the Green Hornet has returned to take his rightful place among other super heroes, such as BatSpiderSuperIron Man.
Britt Reid (Seth Rogen, who also wrote the screenplay with Evan Goldberg) has a domineering father with high standards ("trying is useless if you always fail"), much too overwhelming for a small boy in need of love. Years later the father unexpectedly dies and Britt, now an irresponsible party-boy, inherits the successful family newspaper, The Daily Sentinel. He has no clue how to run a business or even make a cup of coffee when you think about it. Luckily, he meets Kato (this time played by Jay Chou), who can not only make perfect coffee, but build super cars, and fight kung fu.
Slowly, almost by mistake, they team up and begin to fight crime in their city, although sometimes it's a thin line between being a gangster or a rescuer. Soon, they wear simple masks, but otherwise, they stick with normal suits, no tights for them. However, their car, Black Beauty, is top-of-the-line bullet proof (made from a vintage Chrysler Imperial Crown). Britt and Kato both fall in love with their "secretary" Lenore (Cameron Diaz), who is nobody's fool. Their most dangerous enemy is Chudnofsky (Christoph Waltz in a role not unlike his Oscar-winning role in Inglorious Basterds, except that this is spoof). Chudnofsky is intrigued by the superhero myth and acquires a red cape, which makes him look even shorter and more insane.
Britt is similar to Clark Kent as far as the newspaper connection and second identity goes. He is similar to Iron Man in that both come across as clumsy, comical, and irresponsible, but, contrary to expectations, still on top of the situation.
The story clips along at a fast pace with futile attempts at catching the bad guys, massive press about successes, jealously over Lenore, discussions at the newspaper office, and death to innocent people wearing green. The 3D effect is terribly distracting and totally unnecessary. I kept taking off my 3D glasses to get away from it, which gave me distorted pictures, so had to put them back on. Whether director Michel Gondry's method of "shooting in 2D and then enhancing with 3D" is the cause of my discomfort, I'll never know.
Most interesting to me, because I knew so little about him, was Jay Chou. In his home country, Taiwan, he studied classical piano and cello and went on to become a famous, successful pop singer, winning prizes on Asian MTV, selling millions of albums, and creating music videos. I am looking forward to his rise on the horizon of the western world. The original Kato was supposed to be Japanese; then he was Filipino and finally Korean. Now, he has "become" Chinese. The final song is composed and sung by Chou in Chinese. The film should appeal to action fans looking for fun and a reason to follow Britt's example and let it all hang out. Maybe even something good will come from that. (Becky Tan)