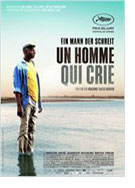 Un Homme Qui Crie - Ein Mann, der weint (A Screaming Man)
France/Belgium/Chad 2010
Opening 7 Apr 2011
Directed by: Mahamat-Saleh Haroun
Writing credits: Mahamat-Saleh Haroun
Principal actors: Youssouf Djaoro, Dioucounda Koma, Emile Abossolo M'bo, Hadje Fatime N'Goua, Marius Yelolo
The film is set in present-day Chad where Adam (Youssouf Djaoro), now in his fifties and once a Central African champion swimmer, works as pool manager in a luxurious hotel complex in the town of N'Djamena. He is a very respected man and proud of holding this important job for the last thirty years. The pool area is a peaceful oasis for tourists and in stark contrast to Adam's home, where the family is taking their meals sitting down together on the earthen floor. Good-looking, 20-year-old Abdel (Diouc Koma) works with his father as pool assistant. The ongoing civil war is hardly noticed except for the jets heard overhead and the constant radio reports urging the population for contributions to the war effort and for enrollment in the army.
The pleasant atmosphere at the hotel changes after Mrs. Wang takes over. The first people get fired, his friend the cook among them. Then it's Adam's turn. Suddenly, he is too old for the job and is ordered to work the parking gate instead. What an intimidating job. His pride gets a serious knock. His son is now the pool manager. Both father and son are embarrassed by this change but don't talk about it, starting to avoid each other. The older man watches his son at the pool, jealous of his youth and energy. One morning army officials are at the house taking Abdel by force to fight against the rebels. Adam just watches quietly behind the curtains, ignoring his wife's desperate shouts for help. With Abdel gone, he returns to his job at the pool. But is he happy now? No, nothing is the same anymore.
Abdel's girlfriend Djeneba (played by the singer Djénéba Koné) arrives at the house. She is pregnant, and the family offers her shelter. Her beautiful voice adds an emotional highlight when she sings her heartbreakingly sad songs. Adam begins to understand why his son took the position at the pool. He needed to earn money for feeding his baby. When the town is threatened by advancing guerrillas and families are fleeing to neighbouring countries, Adam takes his scooter and drives in the opposite direction towards the front. He is wounded and hospitalised. His only aim is to find Abdel and bring him back home.
Despite the title and the war-torn location, no war scenes are screened. A Screaming Man is a calm but powerfully moving story. The Chadian director/writer Mahamat-Saleh Haroun tells a universal story of the love between father and son, of pride and poverty, and the effect that war and corruption has on people. It is a story of our times. This family drama is impressively shot by Laurent Brunet and earned a Special Jury Prize at Cannes 2010. (Birgit Schrumpf)