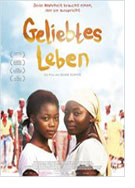 Opening 12 May 2011
Directed by: Oliver Schmitz
Writing credits: Dennis Foon, Allan Stratton
Principal actors: Khomotso Manyaka, Keaobaka Makanyane, Harriet Lenabe, Lerato Mvelase, Tinah Mnumzana
We see 12-year-old Chanda (Khomotso Manyaka) choosing a coffin for her baby sister. Her mother Lillian (Lerato Mvelase) is sick at home and too weak to be of much help. People in the village are whispering that Lillian, too, has the mysterious illness of the devil of which her baby had died. The township community openly calls the illness a disgrace and a retribution for their sins. Nosy Mrs. Tafa (Harriet Manamela) even summons a witch doctor to get rid of the demons. Only now Chanda realizes that her mother must have AIDS, urging her to undergo tests. But the distraught Lillian rather takes the advice of the witch doctor. She returns to her village leaving Chanda alone, helpless and confused. The next shock hits her promptly when her best friend Esther (Keaobaka Makanyane) – who is an orphan – drops out of school, turning to child prostitution. After she finds her beaten up on the street, Chanda takes her in and looks after her friend. The two of them form a bond against the ignorant and prejudiced community. Eventually Chanda overcomes her fears and courageously seeks help at the local clinic. Here she gets support and medical advice for her mother. Not all is lost, and the child goes in search of her mother to bring her back home.
Dennis Foon and Oliver Schmitz adapted Allan Stratton's bestselling novel Chanda's Secret for the screen. The film impresses with an almost documentary approach and the vivid camera work of Bernhard Jasper. There is no bombastic music. The score by Ali N. Askin is used with restraint, only emphasizing the wonderfully vibrant and lively African church choir. The entire filming took place in the small town of Elandsdoorn, north of Johannesburg, and most of the actors were locally cast, including first-time actress Khomotso Manyaka, who received the Best Actress Award at the Durban International Film Festival 2010. The film by director Oliver Schmitz (Mapantsula, Hijack Stories, Doctor's Diary) was awarded Best South African Feature Film and was nominated for a best-foreign-language Oscar©.
Despite the touching and dramatic events, this is not a tear-jerker. This film about a young girl growing up in today's South Africa between traditional beliefs and an educated view offers more than the mother-daughter story. After the hype of the Soccer World Cup, it offers a different look at the daily realities on an entertaining level. Hopefully, it might even help dealing openly with some of the taboos plaguing the country.
During the 2010 Cannes film festival, the film premiered in the section "Un Certain Regard," receiving the Francois Chalias Prize. (Birgit Schrumpf)