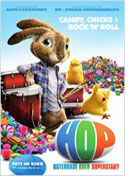 Hop - Osterhase oder Superstar? (HOP)
U.S.A. 2011
Opening 31 Mar 2011
Directed by: Tim Hill
Writing credits: Cinco Paul, Ken Daurio, Brian Lynch
Principal actors: James Marsden, Russell Brand, Kaley Cuoco, Hank Azaria, Gary Cole
Hop is directed by Tim Hill in similar fashion to a previous animated cartoon mix of humans with cartoon characters: Alvin and the Chipmunks; although it is another story all together, the mix is very well put together. The cartoons seem much more natural, not overacted, and the photography is really something. The story is about two people not fitting into their parents' expectations but still finding their ways through life: Fred (James Marsden) and E.B. (voiced by Russell Brand). Also starring Kaley Cuoco, Tiffany Espensen, Chelsea Handler, Bill Hader, Elizabeth Perkins, Gary Cole, David Hasselhoff, Mel Brooks, Elizabeth Howard, Colton Ray and the voices of John Cohen, Hugh Laurie, Laurie Metcalf, Janet Healy, Django Marsh and Hank Azaria.
This film uncovers as never before two fundamentals mysteries of modern and ancient history: the Easter Island and the Easter Rabbit, and it makes sense! Underneath the mysterious heads on Easter Island lives an underworld for the Easter festivity. The Easter Rabbit gets around the world through holes magically interconnected with the island.
E.B. is heir to Easter responsibilities; he is called to continue the Easter Rabbit tradition, however he is more into drums and becoming a rock star. So he naturally goes to Hollywood. Fred's tale is about a man that cannot fit in the real world; he can't find a job good enough. That perhaps is because, as a child, he witnesses, on an early morning, the Easter Rabbit coming to his house to leave a basket full of eggs.
Fred and E.B. meet when Fred literally crashes into E.B. E.B., appealing to Fred's feeling of guilt, manages to find refuge in the house where Fred is house-sitting. Due to E.B.'s bad manners as guest and companion, the house becomes a mess and Fred has no luck finding a job. In the meantime, back home on Easter island, the Easter Rabbit is contrite because of the disappearance of the heir to the factory (E.B.). He sends the Royal secret service (the Pinks) to bring back the royal heir to his duties. The Pinks are not to be underestimated for their names; they are very well trained and every so often nearly catch E.B. There is, however, another danger in the factory: Carlos the Easter chick is so greedy for the job of the Easter Rabbit he will stop at nothing and has organized the chicks against the rabbits. Will these two dysfunctional characters found their ways in life? There are very funny scenes that perhaps some children won't understand, but that is what makes Hop a good film for the whole family. Overall, the film is very entertaining and leaves good feelings. (Amanda Watts)