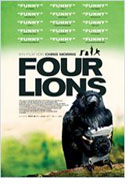 Opening 21 Apr 2011
Directed by: Christopher Morris
Writing credits: Christopher Morris, Simon Blackwell
Principal actors: Kayvan Novak, Nigel Lindsay, Riz Ahmed, Adeel Akhtar, Preeya Kalidas
Three second-generation young British-Pakistani men, Waj, Omar, and Faisal, and one white loser, Barry, are on a jihad roll in England. They plan to blow up some unsuspecting victims, and perhaps themselves along with it. They meet, plan, argue, sing terrorist rap, change plans, and dream of being heroes with delicious rewards in heaven. Although they are Muslim, they are also very working-class British. Omar is married and reads stories to his small son, for example the story of The Lion King. In his version Simba is a successful, revered terrorist. Two take off for terrorist camp, where they argue about which direction is east. Where is Mecca? They create chaos in the camp and are sent back to England. They practice eating their SIM cards to escape identification; they send each other secret messages through the children's Puffin Playground website. They go to the mosque, listen to people play stringed instruments, store liquid peroxide, squat jog down the street, and decide to blow up the internet. Although they are friends, they say, "I'll kill you bro," to prove that the end is more important than the means. Considering their stupidity, it's amazing that some do get to heaven, luckily without lateral destruction of innocents.
This is pure, very British, black humor and because we know this, the film gets away with jokes which might not be funny coming from a different source. It is Monty Python and Sasha Baron Cohen's Borat. Their accents are Liverpool, or perhaps Yorkshire, definitely very often not understandable to the uninitiated. If you didn't understand The Full Monty, you'll have even more problems here. Where are the subtitles when you need them?
The actors are capable and seemed to be having fun: Kayvan Novak, Nigel Lindsay, Riz Ahmed, Adeel Akhtar, and I hope to see more of them. This is director Christopher Morris's first feature film, although he has been quite successful directing television series such as The It Crowd or The Day Today.
The problem is that terrorism is too close to home to be a laughing matter. Whereas we can chuckle over gladiators killing each other in old Rome or Indians dying in the Wild West, terrorism is too real. A satire about pedophiles would cause the same feeling of "nothing to laugh about." So far, there has been no Muslim outcry such as there was over the Danish cartoons lampooning the Muslim religion. Somehow potential critics seem to think that Four Lions is all fun, and perhaps it is. (Becky Tan)