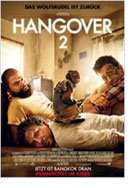 Hangover 2 (The Hangover Part II)
U.S.A. 2011
Opening 2 Jun 2011
Directed by: Todd Phillips
Writing credits: Craig Mazin, Scot Armstrong, Todd Phillips, Jon Lucas, Scott Moore
Principal actors: Bradley Cooper, Ed Helms, Zach Galifianakis, Justin Bartha, Ken Jeong
Lovers of the original Hangover film will be happy to know that Phil (Bradley Cooper), Stu (Ed Helms), and Alan (Zach Galifianakis) are still hung over and still unable to remember basic things such as where they are (Bangkok), the original of a facial tattoo, where Alan lost his hair, or what's up with the monkey. Worst of all, they have lost Teddy (Mason Lee), Stu's genius, cello-playing, Stanford-medical-student, 16-year-old, future brother-in-law.
Todd Phillips was wise to move the action to Bangkok, Thailand, (or T-Hai-Land as Alan says). This provides gorgeous beach scenes of Krabi, panoramas from the 63rd floor of the Lebau Hotel, scummy back street hotels, irresistible transvestites, and Asian gangsters, including a role for Mr. Chow (Ken Jeong, who also played in the original film). Many scenes remind me of Russell Brand in Forgetting Sarah Marshall, which played in Hawaii: palm trees, beach parties, waves rolling onto the sand, speed boat, etc.
As Phil, Stu, and Alan slowly return to sobriety, they retrace their steps in an effort to find Teddy. This takes them to a Buddhist temple, to a hotel ice chest into which they had stuffed a supposedly dead Mr. Chow, and to a rendezvous with mysterious Kingsley, played by Paul Giamatti. Their only souvenir of Teddy is his finger, which has been separated from his body; their explanation that "Bangkok's got 'im" does not amuse the future father-in-law.
The actors are fine in their familiar roles. I especially liked Helms as Stu, the bridegroom and upright dentist, and Crystal the monkey, which was also a good actor. As Alan said, "I wish that monkeys could Skype." Jamie Chung was beautiful as bride Lauren. I laughed at all the crude jokes, and, naturally, sat through all the credits, which revealed all the last unexplained secrets. The Hangover Part II suffers the fate of all sequels: it can't repeat the original and expectations are high. Here, however, the director and his team come close enough and didn't forget to include a cameo appearance with Mike Tyson, wearing a very familiar tattoo and singing "One Night in Bangkok." I doubt we will have to wait long for Part III. (Becky Tan)