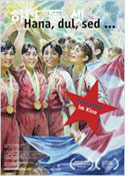 Opening 9 Jun 2011
Directed by: Brigitte Weich
Writing credits:

Four young women, Jong Hi, Mi Ae, Pyol Hi and Hyang Ok, are passionate soccer players. They overcome parental disapproval, strenuous hours of hard training, physical deficiencies (e.g., short stature), and need for any kind of private life to achieve their goal: membership in the North Korean national women's soccer team. The film traces their successes, i.e., two-time winners of the AFC Women's Asian Cup, and their disappointments, such as losing the FIFA Women's World Cup against the U.S. and Japan. They hold deep personal grudges against these two political enemies, due to confrontations during World War II in the 1940s and the Korean War in the 1950s.
Their successes are crowned with public recognition and a medal or a watch, all in the name of their beloved Kim Jong-il, the "Dear Leader" of North Korea. They take home a nice salary, receive comparatively luxurious living quarters and extra food, and are free to fly around the world. Their career ends when the team loses play-offs, making them ineligible for the 2004 Olympics in Athens; the team must become younger and they are redundant.
After years of living and breathing soccer all in the name of their Great Leader, they re-adjust to civilian life. Some marry and start a family. They work in an office or a grocery store. One sticks with sports to become a coach and an international referee. One turns her baby over to a nursery in order to go to work. The nursery scenes help us understand why North Koreans are so complacent and happy, like actors in a science-fiction movie or Stepford Wives. Children are brought up to adhere to group rules. Individualism is not encouraged. The nursery school teachers are patient and calm and exude warmth throughout the room. And this peaceful trust carries over to adulthood, which explains why our four adult athletes also seem so innocent, so naive and uncomplaining. They feel that they deserved special treatment, no doubt about it, and remember those soccer days fondly.
Austrians Brigitte Weich and Karin Macher have made an excellent documentary of a country rarely open to the rest of the world. We see an empty capital city of Pyongyang. Where are all the people around the large, pompous government buildings and memorials to Kim Jong-il? My German colleagues reminded me that this kind of atmosphere was also typical of former Eastern Germany in the days of Communism, when people accepted their isolation and even believed their lives to be the best in the world.
It took several years before Brigitte Weich and her team could enter North Korea. First they followed the team to games away from home for two years, starting in 2003 when the team played in Bangkok. This is a documentary by women about women. Not only directing and excellent photography by Judith Benedikt but capable women were responsible for script, editing, sound, etc. (Becky Tan)