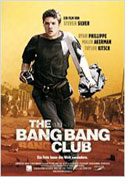 Opening 23 Jun 2011
Directed by: Steven Silver
Writing credits: Steven Silver
Principal actors: Malin Ackerman, Ryan Phillippe, Taylor Kitsch, Patrick Lyster, Frank Rautenbach
In February 1990 South African Nelson Mandela was released from prison and apartheid was over. The country was euphoric for a short time, until dissenting groups began bloody revolts in the townships of Soweto and Thokoza. "There is always someone who wants to kill you, no matter what side you are on." Journalists arrived to report the events. Four, who became good friends and supportive colleagues, were Greg Marinovich, Kevin Carter, and Ken Oosterbroek (all from South Africa), as well as João Silva (originally from Portugal). They were such tight-knit friends and supportive colleagues that they became known as The Bang Bang Club. Without regard for safety, they courageously went to the hot spots to photograph and report the atrocities. In September 1990 Marinovich received a Pulitzer Prize for a photograph of members of the African National Congress who are beating a man from the Inkatha Freedom Party after they had already set him afire. In May 1994 Kevin Carter received a Pulitzer Prize for a photograph of a starving child being stalked by a vulture which was published in The New York Times. Later Marinovich and Silva wrote a book about their experiences: The Bang Bang Club: Snapshots from a Hidden War.
Director Steven Silver tells their true story with actors Ryan Phillippe, Taylor Kitsch, Frank Rautenbach and Neels van Jaarsveld, who play the four journalists. They make the book come alive. We are closely involved in the action, can feel the heat of the weapons and the sweat of uncertainty. The journalists are so concentrated while getting the perfect shot that they seem to be fearless. They joke around, chill out in the office of The Star newspaper between jobs, and even fall in love. But their real love is their work and, in spite of appearances and successes, it takes a toll on them. There is the moral question of "white reporters making money off the blood of Africa." What is their responsibility when confronted with a potential victim? Is it more effective to neutralize one dangerous attack with temporary results or is it more effective to send a photo around the world?
Although this uprising was in the first half of the 1990s, the topic is still absolutely timely, as the number of hot spots around the world is not diminishing and journalists still risk their lives to go there. Forty-four journalists died on the job worldwide in 2010. The Hamburg press conference for this film was on April 19, 2011; just six days later, The New York Times reported the death of conflict photographer Tim Hetherington while he was working in Libya. His own filmed documentary of the Afghan war, Restrepo, showed at the Sundance film festival in January of this same year (2011).
The Bang Bang Club is educational and well acted by all participants. I highly recommend it. (Becky Tan)


Second Opinion

The Bang Bang Club is well acted by all four main characters as well as their pretty girlfriends. The good cinematography highlights the action as well as the quiet moments perfectly, and the South African atmosphere is well portrayed (the political action as well as the typical leisure time spent outdoors, fooling around in natural pools, jumping from rocks, socializing around a barbeque or going to a disco). I liked the choice of music. The subject of a group of disaster journalists with their different characteristics is an interesting one. With a variety of war zones around the world, it also is a timeless topic on an international scale. All in all, a gripping film which is to be recommended. (by Birgit Schrumpf, who lived in South Africa for 30 years.) (Birgit Schrumpf)