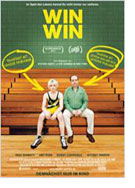 Opening 21 Jul 2011
Directed by: Thomas McCarthy
Writing credits: Thomas McCarthy, Joe Tiboni
Principal actors: Paul Giamatti, Amy Ryan, Bobby Cannavale, Jeffrey Tambor, Burt Young
Most of us have fallen on hard times at some stage in our lives. Therefore, most of us can sympathise with Mike Flaherty (Oscar® nominee Paul Giamatti), who just wants to be able to provide for his family and lead a decent life. Right now he is fighting a losing battle financially as well, with coaching the uninspired high school wrestling team. His morale is at its lowest.
In desperation he takes on the guardianship for his client Leo (Oscar®-nominated Burt Young), bringing him a monthly cheque of $1,500. Leo suffers from dementia and wants to stay in his own house, but Mike moves him to an old age home. He lies to his wife Jackie (Amy Ryan, an Oscar® and Golden Globe® nominee) by pretending all is well. Trouble is on its way when the bad-humoured 16-year-old Kyle (Alex Shaffer) wants to live with his grandfather Leo, having run away from his drug-abusing mother. Mike lets him stay with his family, and he even discovers the bright side when Kyle joins the wrestling team. The seemingly shy boy is a top-notch wrestler and has already won titles for his school. Life looks good again. But poor Mike, there is "no rest for the wicked": Kyle's mother Cindy (Melanie Lynskey) appears on the scene. The emotional merry-go-round takes its course.
Director Tom McCarthy wrote an entertaining story-line together with Joe Tibony and brought to life a New Jersey middle-class neighbourhood as well as the fascination of high school wrestling. The cast of such diverse personalities like Giamatti, as the troubled family man, Bobby Cannavale as Mike's best friend and Jeffrey Tambor as the head coach, form a brilliant team of comedians joined by a more subtly funny Amy Ryan in the role of Jackie. Young Alex Shaffer was totally convincing as a troubled and disgruntled teenager. I was surprised to hear that this was his debut. He is a nationally-ranked teen wrestler and had never acted before.
There is not a dull moment watching this funny but very authentic modern-life story. I like the pragmatic ending: after all, a win-win situation. (Birgit Schrumpf)