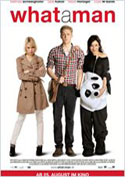 Opening 25 Aug 2011
Directed by: Matthias Schweighöfer
Writing credits: Matthias Schweighöfer, Doron Wisotzky
Principal actors: Thomas Kretschmann, Sibel Kekilli, Matthias Schweighöfer, Nora Tschirner, Elyas M'Barek
Referring to the young actor and script writer Matthias Schweighöfer, also turning film director and co-author with this debut film, one can indeed say, "what a man". He acted in numerous successful films (Valkyrie, with Tom Cruise, 2008; Keinohrhasen, 2007) and popular TV-productions for which he received prices like The Golden Camera, New Faces Award, Bambi and the Austrian Undine Award.
This movie is not about Schweighöfer but about Alex (starred by Matthias Schweighöfer), who is shy, insecure and a man with little self-esteem, forever making excuses for other people's behaviour. After losing his girlfriend Carolin (Mavie Hörbiger) to the macho Jens (Thomas Kretschmann), he wants to change to become "a real man." His friend Okke (Elyas M'Barak) is there to help him, teaching him to flirt on the dance floor and showing him how to act cool.
Nele, Alex' friend who always supported him during their mutual school days, lets him stay at her apartment and tries to lift his spirit. Her French boyfriend Etienne (Pasquale Aleardi) seems to be a good role model; he is charming, enthusiastic and caring. But is he?
In a self-help group Alex meets the wild and crazy Volker (Milan Peschel) who teaches – and preaches – how to fell a tree in order to become a man. Alex is willing to try it all. It is fun to watch how it all falls into place at the end, even if at times it is a bit silly or predictable. Alex learns to be himself and to trust his own feelings. He doesn't have to change – he only has to love the right woman, the one who accepts his qualities of being considerate, kind-hearted and funny.
It's a fresh look at the theme of "when is a man a man?" from a popular German song of the '80s: a question that is still open for a variety of interpretations in today's society. This well acted, light-hearted comedy is carefully produced, thoroughly enjoyable and unpretentious entertainment. (Birgit Schrumpf)