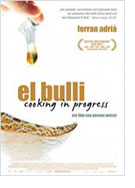 El Bulli – Cooking in Progress
Germany 2011
Opening 15 Sep 2011
Directed by: Gereon Wetzel
Writing credits:

Would you spend 230 Euro per person for a meal at a restaurant in a remote cove on the east coast of Spain, two hours north of Barcelona? About 8,000 people make the gastronomic pilgrimage during the six-months long season. You guessed it; this is not any odd place but the world-renowned three-star Michelin, avant-garde restaurant El Bulli, which is run by celebrated chef Ferran Adrià. It was voted the world-best restaurant five times over.
El Bulli regularly closes for six months each year. During these months Adrià and his core team – Oriol Castro, Eduard Xatruch and Mateu Casanas – retreat to a laboratory kitchen in Barcelona. They start experimenting with new techniques, trying out different products and establishing the new menu of 28 – 35 dishes for the next season. It was this fact that intrigued and interested filmmaker Gereon Wetzel, with Anna Ginesti Rosell as head of production. His beautifully filmed documentary is very different from any of the "cooking" films on the movie circuit. It is not even about cooking but shows an experimental way of presenting food which has become known as "molecular gastronomy". The final products are photographed, looking more like sculptures in an art catalogue than the evening's dinner.
The German filmmaker spent a year observing Adrià and his loyal team of top chefs at work. Camera man Josef Mayerhofer and the film's composer Stephan Diethelm apply an arty style, emphasising the creative atmosphere in the cooking lab and at the restaurant kitchen. No voiceover is used, no interviews or commentary by diners or critics. Instead one is immersed in the action by close-ups of faces and watching yet another method of squeezing liquid out of a sweet potato. You listen to the conversations and wonder how a usable result will come out of: "This looks like an egg", "No, it is ravioli where the pasta disappears". Ingredients are deconstructed and then reassembled. You hear expressions like edible foams, spheres, liquid nitrogen, liquidised mushrooms. At all stages photos are taken and meticulously catalogued. The chefs are as confident with the computer as with the latest kitchen equipment. Trial recipes and reactions are noted and numbered. Ferran Adrià's presence and guidance is severe. He holds all in suspense with his demand not only for quality but for originality and truly new ideas. Restlessly he moves around, making suggestions, hardly interrupting his business talk on the mobile phone. His dedicated chefs are eagerly waiting for his reaction after handing him a tasting spoon. You feel the tension when watching the master's face for a sign of approval. He only growls: "Don't give me anything bad." Despite the concentrated working atmosphere, there is a playful mood when a cocktail glass of water topped with hazelnut oil is presented. He likes it and exclaims: "This is the year of the water". The theme is followed up with frozen water (ice) shavings to be served directly at the table with one of the creations.
As the film title suggests, the focus of this documentary is on the "cooking in progress", concentrating on an enthusiastic team searching for culinary perfection. Only in the second half does the move to the kitchen at El Bulli take place. Here the final touches to the menu are developed. Before the restaurant opens for the season, the newly employed chefs and stewards – chosen from all over the globe – are trained on site. The kitchen is buzzing with some 40 chefs. Adrià combines passion and creativity with tough management, controlling about 60 staff members serving 50 guests per evening.
This documentary is truly fascinating, watching the creative process of one of the most imaginative menus in the world. 2010/2011 was the last season for El Bulli. The restaurant closed its doors on the last day of June. After a two-year break El Bulli will reopen in 2014 with a new and different concept as a foundation dedicated to culinary creativity. There will still be food served but research will take on a greater priority than cooking. "To find out if there's anything beyond what we've already done" is Adriàs comment in Time magazine.
Ferran Adrià is known as the most creative chef of our time having influenced the restaurant scene with his revolutionary ideas (Time magazine listed him one of the 100 Most Influential People in the World). In 2007 he featured as an "artist" at the Documenta, a contemporary art show held every five years in Kassel, Germany. (Birgit Schrumpf)