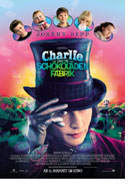 Charlie und die Schokoladenfabrik (Charlie and the Chocolate Factory)
U.S.A./U.K. 2005
Opening 11 Aug 2005
Directed by: Tim Burton
Writing credits: Roald Dahl, John August
Principal actors: Johnny Depp, Freddie Highmore, David Kelly, Helena Bonham Carter, Noah Taylor
Willy Wonka (Johnny Depp) is the illusive owner of a chocolate factory, which he hasn't left for 15 years. Charlie (Freddie Highmore) is a small boy who lives in a crooked house with his poor, loving parents and his four grandparents who share a bed to keep warm. Wonka has a warped relationship to any kind of family, but still needs an heir to the factory. Five children win golden lottery tickets and gather for a factory tour, not knowing that this is a test. One by one the spoiled brats and their accompanying parents literally fall by the wayside, leaving Charlie the winner. But, lo and behold, he refuses the prize because he would lose his family.
Directed by Tim Burton, this is a very visual film. The factory runs like clockwork similar to the factory in Metropolis. The interior is bathed in pastel colors with a chocolate waterfall, chocolate river, sugar boat, gum drops hanging from the trees, candy canes, edible grass, etc. (Over 265,000 gallons or a million liters of real chocolate were manufactured right on the set in Great Britain.) The small ant-like, industrious factory workers called Oompa Loompas wear colourful jumpsuits. Willy Wonka looks like a piece of marzipan himself with his pale skin and plastic teeth (which made Depp initially unrecognizable on the film posters). Charlie's house is a contrast of darkness, lit by a warm candle and the love within. Watching this film is like turning the pages of a storybook, which it is, of course, written in 1964 by Roald Dahl.
Normally, I don't read reviews before writing my own, but in this case, I couldn't help it. My impression is that there is an east-west divide: reviews are lukewarm in the U.S. and glowing in Germany and Great Britain. Anthony Lane, New Yorker magazine critic, described the first child to win a golden lottery ticket: "August Gloop is still pneumatically plump, but now he hails from Germany where we see him posing in a sausage shop. This is so unjust, outdated and downright obvious….with not so much as a nod to political correctness."
Actually, in the film he hails from Düsseldorf, which isn't "Germany" and in my Hamburg audience everyone howled with laughter at the German boy. Matthias Heine of Die Welt even compared the shot of the sausage shop to a famous 1928 August Sanders photo and said, "…anyway, we Germans can't complain because the other kids are much worse."
The dwarf actors' lobby complained that only one dwarf (Deep Roy) was multiplied by digital engineering to play all the Oompa Loompas, thus causing huge unemployment among dwarf actors. Others compared Willy Wonka's attire and mannerisms to Michael Jackson. Yes, with his heart-shaped lips, top hat, tails, gloves, oversized glasses, and man-behind-the-mask mysteriousness, there is a likeness – and it wasn't just by chance. A Michael Jackson type fits well into the story. Even he was once loved by someone – millions of fans in fact – before falling from grace. Purists moan that it isn't "like the book" nor "like the 1971 Gene Wilder film version." They miss the old songs. Naturally, it's difficult for four new songs to compete against an evergreen such as "The Candy Man," even though the new texts originated 90% from the book with one song to herald each child's demise.
See the film with an open mind and enjoy it for its own well-deserved artistic excellence. Enjoy the flying glass elevator, the squirrels cracking nuts, the rejuvenated grandpa, the terrible parents, and, if you will, the politically correct ending. I saw the film in a cinema full of families, and the fathers laughed the most. Considering Willy Wonka's abnormal teeth and the father-son conflict to make them that way, perhaps they can relate. (Becky Tan)