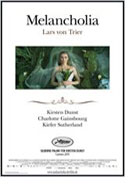 Opening 6 Oct 2011
Directed by: Lars von Trier
Writing credits: Lars von Trier
Principal actors: Kirsten Dunst, Charlotte Gainsbourg, Kiefer Sutherland, Charlotte Rampling, John Hurt
Danish director Lars von Trier is well-known for Antichrist, Manderlay, Dogville, Dancer in the Dark, or Breaking the Waves. He breaks barriers, offers new ideas, and is good for surprises – a director we must take seriously and must view, simply to know what he has come up with next. Melancholia fits this category, and whether you will be a fervent supporter or an angry denier, the film will not leave you cold.
Justine (Kirsten Dunst) and her fiancé drive to the beautiful country villa of Justine's sister Claire (Charlotte Gainsbourg) and her husband John (Kiefer Sutherland). The new couple is terribly late for its own wedding party, which was to take place in this sumptuous setting surrounded by a golf course. The elegant guests are seated and waiting. Upon their arrival, the obligatory speeches follow, and we slowly meet the parents of the bride, the small nephew, the boss from work, etc. Justine sees the wedding as a last chance to survive in a "normal" world, a world in which she seems to be floating, unconnected to anyone else. In the end, she loses her grip and gives up any show of normalcy. The groom stalks off, as do the guests, including Justine's mother Gaby (Charlotte Rampling). The next day she is alone with Claire, and they go horseback riding.
From here on the emphasis is on Claire, who slowly falls apart while Justine begins to relax and accept the fact that, soon, life as we know it will be destroyed. John grills supper outside because electricity is down due to a huge planet rising on the horizon. This is the planet Melancholia, which will destroy the planet Earth and thus end life forever, because there is no life on any other planet.
The basic story is part The Celebration (by Thomas Vinterberg), part The Tree of Life (Terrance Malick), and part Of Men and Gods (Xavier Beauvois), so if you liked those films, you will find much to appreciate here. The idea of a second planet hovering over us and influencing our actions is similar to Another Earth (Mike Cahill). There is much room for psychological discussion about depression and its consequences. Lars von Trier, in interviews, contributes, "Justine is longing for something of true value, and true values entail suffering, so in all we tend to view melancholia as more true. We prefer music and art to contain a touch of melancholia. So melancholia in itself is a value." Depressing? Yes.
The hand-held camera adds to the atmosphere, but also distracts; several film journalists left the film half way through because the jiggling made them dizzy. On the positive side, Kirsten Dunst is surprisingly excellent and rightly won Best Actress for this role at the 2011 Cannes film festival. (Becky Tan)