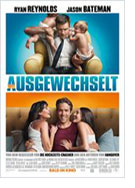 Wie ausgewechselt (The Change-Up)
U.S.A. 2011
Opening 13 Oct 2011
Directed by: David Dobkin
Writing credits: Jon Lucas, Scott Moore
Principal actors: Ryan Reynolds, Jason Bateman, Leslie Mann, Olivia Wilde, Alan Arkin
In the opening scene we are introduced to Dave enduring a mouthful of baby poop, setting the tone of the film. You have to decide for yourself how funny that is. Dave (Jason Bateman) and Mitch (Ryan Reynolds) are best friends, both good-looking but otherwise leading very different lives. Dave is a company attorney with a beautiful wife (Leslie Mann) and three adorable children. Mitch is a womanizer, leads a commitment-free bachelor life, including smoking dope and excessive drinking. He claims to be an actor, admitting that he plays gigs in soft-porn films. The two of them meet for drinks at a bar. They get drunk, talk of their daily lives and become envious of each other's lives. Listening to Mitch's colourful description of sex life with Tatiana (Mircea Monroe), Dave starts missing the careless days. Mitch instead is longing for the stability of a family. Whilst drunkenly urinating into a public fountain, their wish is granted by the friendly fairy.
The shock comes next morning. Mitch is now Dave, and Dave wakes up as Mitch in the rubble of the bachelor dig. Mitch's morning starts with frantically trying to feed the babies, but they only want to play with the kitchen knives. Chaos pure! Rushing to the office he is confronted not only with the stern and demanding boss, but he also meets Dave's sexy secretary (Olivia Wilde).
In the meantime Dave has a disturbing experience of being cast in a porn movie (an embarrassing and gross scene). He is glad to escape the seedy studio, enjoying the rest of the day at the aquarium. But still, he worries about Mitch probably ruining his job at the company. There are funny situations as the two characters desperately try to fit into the lifestyle of the other. The message is clear: "The grass is not greener … etc."
Alan Arkin is cast as Mitch's father. For Reynolds and Bateman it is challenging acting as they have to play against type for most of the film. We only see them in their own bodies for the first 15 minutes. At times this is confusing, as their characters are the same age and sex and have the same college background (unlike other body-swap movies, Freaky Friday, etc.).
The film puts you through a roller-coaster kind of mood by laughing out aloud the one moment and having to suffer an over-the-top crude scene the next. Jon Lucas and Scott Moore, the two authors of the recent blockbuster The Hangover, wrote the script for this raunchy R-rated comedy, directed by David Dobkin (Wedding Crashers). (Birgit Schrumpf)