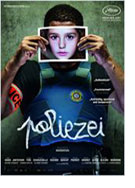 Poliezei (Poliss, Polisse)
France 2011
Opening 27 Oct 2011
Directed by: Maïwenn Le Besco
Writing credits: Maïwenn Le Besco, Emmanuelle Bercot
Principal actors: Karin Viard, Joey Starr, Marina Foïs, Nicolas Duvauchelle, Maïwenn Le Besco
This cop drama is Maïwenn Le Besco's third film as a director. After thorough research she wrote the script in collaboration with Emmanuelle Bercot; both also star in the film. The work of the Child Protection Unit in Paris entails interrogation of abusive parents, dealing with juvenile pickpockets, watching internet paedophiles or even investigating incest in an upper class family. A confrontation with the reality of paedophile crime investigation can be disturbing and may easily bring up feelings of anger and disgust.
The eleven-member squad of dedicated women and men work effectively as a team. They treat the delicate subject matter with care, patiently and tenderly interrogating small children. What lies behind the little girl's comment: "my father scratches my butt"? It is time-consuming and can be exhausting to distinguish between truth, fantasy and a simple lie. The officers have to poke into private lives, trying to establish the guilty party, especially with conflicting testimonies of child and parent. Some people act aggressively, others are timid. In one heartbreaking case a black mother is leaving her young son with the unit because she has no longer a place to live. Another interrogation unintentionally turns into a funny situation. A teenage girl casually admits to performing a "blow-job" because she wanted her stolen mobile back. Two female officers have to leave the room packing-up with laughter. When the girl dead seriously adds, "…but it was a very nice phone", they can hardly contain their humour.
The different personalities occasionally give cause to tension and rivalry. Each one in the team has their own personal issues defining their particular mood, sometimes rising up in heated discussions and stressful arguments. The strain of a demanding job is felt. It becomes clear that hard work and long hours affect almost everyone's home life. No wonder that there is hardly any energy left to take care of their own family problems. Their personal needs have to be fulfilled within the working team. A strong camaraderie and solidarity holds them together; they work hard and play hard. The team becomes family – and there is room for tender love too.
With their raw emotional performances, the accomplished French cast (Karin Viaard, Joeystarr, Marina Fois, Nocolas Duvauchelle, Karole Rocher, Frédéric Pierrot, Arnaud Henriet, Naidra Ayadi, Jérémie Elkaim) brings to life the uneasy, sensitive material, based on true-life criminal cases. Minimalist music by Stephen Warbeck, with some kind of "oriental ethnic, ethereal" tone, is used to underline the protagonist's feelings. The film's constant changes provide tempo and give it an all-round dynamic intensity. If you wonder about the title Poliss, this is a spelling mistake by Maïwenn's little son, and it seemed an appropriate choice for the subject. (Birgit Schrumpf)