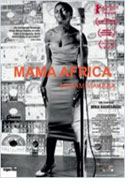 Opening 10 Nov 2011
Directed by: Mika Kaurismäki
Writing credits: Mika Kaurismäki, Don Edkins

This is the story (documentary) of Miriam Makeba, the South African singer who was a key voice against apartheid even though she proclaimed not to be political but just to be telling the truth to the world. Makeba had been singing jazz, but, once she sang background in a film depicting the situation in South Africa, she was exiled by the government. Early days in New York she spoke to the United Nations, went on to marry Stokely Carmichael of the Black Panthers and, of course, through him became involved in American racial affairs.
Born to a line of healers – her grandmother and mother were traditional healers – Makeba felt that she could heal the world through music. She toured the world singing – think "Pata Pata" – while based in the United States, Belgium or Guinea. Her grandchildren, former colleagues and even the much younger African singer Angélique Kidju appear talking about their relationship with Makeba as well as her inpact on the world. The film was directed by Mika Kaurismäki. (Thelma Freedman)


Second Opinion

The Finnish film director Mika Kaurismaki documents Miriam Makeba's amazing life story. Together with Don Edkins he started developing this documentary with Makeba when she died in 2008 at the age of 76. With a collection of archive footage of her live performances interspersed with interviews of family, colleagues and friends this film pays homage to the legendary African singer, respectfully called "Mama Africa." A role in the anti-apartheid film Come Back, Africa (1957), produced by independent filmmaker Lionel Rogosin, screened at the film festival Venice made her famous around the world. But she had to pay dearly for being in the limelight. The South African government revoked her passport due to her criticism of the regime.
With the support of Harry Belafonte, one of her admirers, she became a star in the U.S., publishing four successful albums. She was an important influence and encouragement to black artists worldwide. Singing in English or in her mother tongue Xhosa, she told stories of life in South Africa. Most of us will remember Pata Pata or her amazing Click Song.
Speaking at the United Nations in 1963, she was the first black woman bringing Africa to the attention of the rest of the world. When she married black rights activist Stokely Carmichael, her career came to an abrupt end. Overnight all U.S. engagements were cancelled, and she was without work. This forced her to leave the States, performing in many European cities and finding a home in Guinea. For almost 30 years she was not allowed to return to her homeland which she dearly missed. It was Nelson Mandela who invited her back "home" after his release in 1990.
This documentary brings to life interesting historical material of the Apartheid system into which Makeba was born (1932) in a Johannesburg township. This charismatic, compassionate woman had to deal with many draw-backs and continued personal tragedy in her life (her only daughter died at the age of 35). One can only admire her, be inspired by her perseverance, kindness and dignity. (Birgit Schrumpf)