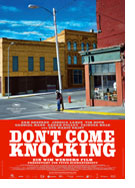 Opening 25 Aug 2005
Directed by: Wim Wenders
Writing credits: Sam Shepard, Wim Wenders
Principal actors: Sam Shepard, Jessica Lange, Tim Roth, Gabriel Mann, Sarah Polley
Director Wim Wenders and actor Sam Shepard take us once again to the rugged western United States to deal with dysfunctional families and abandoned relationships, a la Paris, Texas (winner of the 1984 Cannes Golden Palm). Wenders is fascinated by the western landscapes, for him the most beautiful in the world. But that spirit of rugged individualism and cowboy mentality has a negative affect on family and relationships.
Howard (Shepard) is a western cowboy film star getting a little long in the tooth. After barely surviving another party with women, drugs and booze in his star RV, he rides his horse off the movie set in search of his lost life. After trading his spiffy cowboy boots and hat for a bum's shirt and vest, Howard visits his mother (Eva Marie Saint) in Elko, Nevada. He hasn't seen her in thirty years but she has kept a photo album tracing his path from young movie star to drunken playboy to drug arrests and the fading of a former star. She tells him that a former girlfriend called her many years ago with the news that she was pregnant.
After another drunken brawl and arrest at a nearby casino, Howard takes his father's old car and drives up to Butte, Montana, hoping to find something to hang on to. There he finds Doreen (Jessica Lange), their son and her daughter from another former fling. Not emotionally able to process the complexity of the situation, Howard returns to the movie set where there is a script and directions to follow. His son and newly found half-sister drive in their grandfather's car down the highway past "Wisdom," happily connected and committed.
Not a Cannes winner this time but a film definitely worth viewing, if only for the magnificent scenery. (Patricia Ritz)