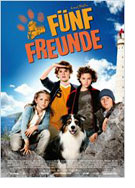 Opening 26 Jan 2012
Directed by: Mike Marzuk
Writing credits: Enid Blyton, Peer Klehmet, Sebastian Wehlings
Principal actors: Valeria Eisenbart, Quirin Oettl, Justus Schlingensiepen, Neele-Marie Nickel
Enid Blyton was born in London in 1896 and wrote most of her famous children's books during the 1940s and 1950s. During the '50s her books became bestsellers and were translated into 40 languages. Of the Fünf Freunde alone 100 million books were sold world-wide. Later in life Enid Blyton suffered from Alzheimer's disease and died in 1968.
Whole generations have grown up reading her books or have seen the British TV series The Famous Five (1977). Fünf Freunde is the first full-length movie of the adventure stories, directed by Mike Marzuk (Sommer / Rock It!), in close cooperation with the producer team Andreas Ulmke-Smeaton, Ewa Karlström.
The strong-headed Georgina, called George because she would rather be a boy, is looking forward to spending the summer holidays in her hide-out, a ship-wreck on the beach. But instead, she is obliged to entertain her visiting cousins Julian, Dick and their cute sister Anne. Her father Quentin (Michael Fitz), a famous professor, is working on his secret project on rock island. After the cousins rescue her dog Timmy from a cage, George warms to them. In the cage the children had overheard a mysterious radio message and found copies of Quentin's research papers. There is no doubt; George's father is in danger on the lonely island. Immediately, they alarm the village police, made up of the clumsy Peters and his helper Hansen (wonderfully funny Armin Rhode and Johann von Bülow). Nobody believes the children. Mother Fanny (Anja Kling) orders them to play indoors and stay out of trouble.
George is worried, and the four friends take the matter into their own hands. A young couple in a camping bus seams suspicious. When the pair wants to leave for rock island on a small Hoover craft, Julian and Dick try to disconnect the wires. By mistake they start the engine and an exciting run through the little harbour follows. The police stop them and they are penalised with a heavy fine for damages. How frustrating! It is only by chance that George discovers a secret tunnel under the sea leading to the small island. She finds her father, but he is not alone. The gangsters are already there. Luckily, the dog Timmy and her loyal friends are on the way to help.
For the children's part, the young talents Valeria Eisenbart, Quirin Oettl, Justus Schlingensiepel and Neele Marie Nickel cannot be praised enough. Their play is natural and convincing and they work wonderful as a team.
The film script is sensitively adapted and carefully "modernised" by Peer Klehmet and Sebastian Wehlings. The setting is timeless but keeping the charm of the Blyton stories with cobbled streets, quaint houses, scenic images of the coastline and beaches (camera: Bernhard Jasper). There are funny scenes, there is tension and there is friendship and loyalty. All in all: a film that will not only please children between the ages of five and twelve but their parents as well. (Birgit Schrumpf)