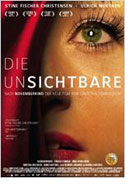 Opening 9 Feb 2012
Directed by: Christian Schwochow
Writing credits: Heide Schwochow, Christian Schwochow
Principal actors: Stine Fischer Christensen, Ulrich Noethen, Dagmar Manzel, Christina Drechsler, Ronald Zehrfeld
Young acting students lead difficult lives. They are friends but also rivals for top jobs; they support each other, but each is on his/her own. Josephine, called Fine (Stine Fischer Christensen), is one of these students, just 21, but introverted and lonesome. She lives with her single mother and her handicapped sister Juliane. Director Kaspar Friedmann (Ulrich Noethen) comes to town and selects a cast for a new version of Camille. Everyone, including Fine, is surprised when she gets the lead. Slowly she meshes into the role and takes it over into her private life. She wears the blond wig from the play on the subway, flirts mercilessly with a stranger with whom she becomes intimate, begins to cut herself surreptitiously. At first helpful at home with the difficult sister, she begins to demand more attention from her already overworked mother.
If this sounds familiar, it's practically the same plot of another film: Black Swan, except that one featured a ballet dancer fighting for the top and this time it's an actress. Here, too, she becomes more intimate with the director, is nasty to her own mother, ignores discipline, becomes a monstrous version of former self, but is also amazingly successful. Perfect parallels to Black Swan.
In this excellent film we see the development of the play Camille within the play/film. On stage Fine also grows into an aggressive person. She visits the director at home and it leads to an affair. We don't recognize her any more; she has lost herself – the good and the bad – to become someone else. Who is really invisible here?
Throughout the film, I never thought that Christensen could play a bad actress and in the end, she was marvellous, especially considering that she comes from Denmark and had to learn German for the part. Christina Drechsler as the handicapped Juliane is also excellent. In fact the entire cast carries the film along, low key, but building forward piece by piece until there is a grande finale reminiscent of A Star is Born or Billy Elliott. All my colleagues at the press showing agreed that we need to run home and read Alexandre Dumas fils' The Lady of the Camellias once more – or see La Traviata or perhaps John Neumeier's ballet Kamiliendame, although this movie is a perfect entity by itself. Perhaps it borrows something from Camille but, in the end, it transcends it, making the original unimportant. Highly recommended if you speak German well enough. Directed by Christian Schwochow, who wrote the script with his mother Heide Schwochow. (Becky Tan)