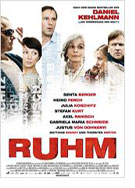 Opening 22 Mar 2012
Directed by: Isabel Kleefeld
Writing credits: Isabel Kleefeld, Daniel Kehlmann
Principal actors: Senta Berger, Heino Ferch, Julia Koschitz, Stefan Kurt, Thorsten Merten
Direction and script by Isabel Kleefeld after a book by Daniel Kehlmann with Justus von Dohnányi, Senta Berger, Heino Ferch, Julia Koschitz, Stefan Kurt, Thorsten Merten, Axel Ranisch, and Gabriela Maria Schmeide and camera by Rainer Klausmann.
Identity and reality are the central themes of Fame, a bestselling episodic novel in nine stories. True to life, their characters' fates are linked in unsuspecting ways: minor actions here snowball into major changes elsewhere; fictional figures within this fiction depend on their writer for their destiny; and all of the above are in this aspect 'at the mercy' of Fame's author Daniel Kehlmann.
Joachim (von Dohnanyi) receives cell phone calls intended for actor Ralf Tanner (Ferch) and soon becomes rather addicted to slipping into his identity – if only by phone. In a simultaneous ploy Ralf's celebrity life has been taken over by a lookalike. Pushed out of the way by a double and his phone connections mysteriously lost, he is free to leave stardom behind. Why his (and many others') phone number was assigned twice … that's another story.
Leo (Kurt) is a famous author. While his girlfriend Elisabeth (Koschitz) serves him unwillingly as model for a fictional character, internet-blogger Mollwitt (Ranisch) would like nothing better. Rosalie (Berger), who is aware of being a figment of Leo's imagination, 'decides' to commit assisted suicide; writer-colleague Maria (Schmeide) will be sorry to have accepted a tour through a former east block country on behalf of him.
The novel with its strong pictorial style begs to be made into a film. Readers will want to watch any film version – out of curiosity how it would be artistically solved and how the challenge was met, not to lose the viewer in confusion. One can always re-read a chapter (and will be rewarded with detecting yet another angle). A film needs to help here in other ways. Interestingly this has been billed as "the first film adaptation of the book". I hope it won't be the last. One may argue over Isabel Kleefeld's (script direction) choice to cut out three chapters and rearrange others to incorporate their thoughts. But I had hoped for some wonderful artistic ideas to mirror the inventiveness of the book and to help with a better orientation through a slightly confusing universe. (Carola A)