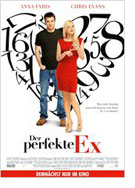 Der Perfekte Ex (What's Your Number?)
U.S.A. 2011
Opening 29 Mar 2012
Directed by: Mark Mylod
Writing credits: Gabrielle Allan, Jennifer Crittenden, Karyn Bosnak
Principal actors: Anna Faris, Chris Evans, Ari Graynor, Blythe Danner, Ed Begley Jr.
Ally Darling (Anna Faris) reads a magazine article that states that women who have been with more than twenty sexual partners have a 96 % chance of ending up alone. Ally has hit this un-magical number. To prevent ending up alone, Ally decides to revisit her ex-boyfriends. Ally hopes that one has changed for the better and can turn out to be Mr. Right. Ally enlists the help of her womanizing neighbor, Colin (Chris Evans), to track down as many of her exes as she can. The movie follows Ally on her quest to find Mr. Right. But, could Ally's Mr. Right be closer than she thinks?
Although there are some funny one-liners and scenes in the adaptation of Karen Bosnak's book (20 Times a Lady), What's Your Number is a predictable romantic comedy which is best seen on video. I found that the role played by Faris was dull and somewhat uncomfortably annoying at times. If you are in the mood for a mindless and predictable comedy, this will be a good movie to rent. (Mary Lindgren)