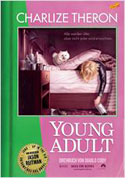 Opening 23 Feb 2012
Directed by: Jason Reitman
Writing credits: Diablo Cody
Principal actors: Charlize Theron, Patton Oswalt, Patrick Wilson, Elizabeth Reasor, Collette Wolfe
Thanks to Charlize Theron's convincing performance, this is a gripping story of a 30-something woman hankering after her teenage years or rather after her teenage sweetheart. She is a ghostwriter of a series that is to be discontinued, has a failed marriage behind her and lives in a small flat with her fluffy dog Dolce in the "big city".
When she receives a birth announcement from her high school boyfriend Buddy Slade (Patrick Wilson), Mavis suddenly decides that he still is the "man of her life", completely ignoring that he is happily married to Beth (Elizabeth Reaser). She returns to her small hometown of Mercury pretending to look for real estate and tries to impress with her "worldly" behaviour but instead is grappling with her own insecurities. Taking a drink in a bar she bumps into Matt Freehauf (Patton Oswalt) from her high-school days. She doesn't remember him but he knows her as the glamorous queen bee. Matt is now a crippled and lonely man after being battered at high school by a group of youth who thought he was gay. Now he spends his time painting plastic miniature figurines and brewing illegal liqueur in his garage. A strange relationship develops between the two, and Mavis confides in him her true reason for coming back "to this dump". Mavis' behaviour is so blatantly insensitive and stubborn that one almost feels sorry for her. She goes all out to dress as the vamp or as the serene type, depending on the occasion, when meeting Buddy. Naturally, not all goes as expected when trying to seduce Buddy and win him back.
The film is touching and often funny, mostly in a bleak and bitter way. The character of Mavis is not a likable one but totally fascinating to watch when stumbling from one harsh and disappointing truth to the next, whilst stuck in her own world of denial and alcoholism. Charlize Theron balances the tragic and hilarious situations brilliantly.
For this compelling comic-tragic film director Jason Reitman teamed up with the excellent scriptwriter Diablo Cody (as already for Juno). (Birgit Schrumpf)