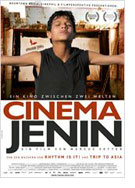 Opening 28 Jun 2012
Directed by: Marcus Vetter
Writing credits: Marcus Vetter, Aleksei Bakri

This is German director Markus Vetter's third documentary and was certainly inspired by his well-known Heart of Jenin. Jenin is a town in the Palestinian West Bank with a population of about 40,000. It supports an on-going refugee camp founded in 1953, after many Palestinians were forced to flee during the 1948 war. Originally, Vetter was in Jenin to interview Ismail Khateeb, the protagonist in Heart of Jenin. Invading Israelis killed Khateeb's 12-year-old son. He donated the organs of his Arab child to save the lives of Israeli children.
While filming this story, Vetter and Khateeb (who was now working with young people in Jenin) wanted to do more. They decided to revive the famous cinema which had been more or less a ruin since 1987, again after an armed conflict. Throughout the film Cinema Jenin, we are drawn into the planning and the slow progress, step by step, almost as if we personally are clearing out the rubbish. With great enthusiasm volunteers arrive from other countries to help clean the building, paint, and install electricity, spotlights, seats, everything a cinema needs, while Markus Vetter documents the revival over a three-year period.
The group is beset with hindrances which would stop anyone less determined. The owners of the cinema, sniffing German money, drive a hard bargain. Having done nothing for twenty years they suddenly want to collect the proceeds from the sale of cinema tickets, without investing a penny. Vetter resides with one of his best co-workers. This man's neighbor takes him to court because the "foreign guest" is disturbing his peace and quiet. Vetter and his host accept the court's decision and pay a fine. Later they take over an abandoned house and set up a dormitory for all the foreign helpers. Probably the biggest blow is the assination of their best advisor: Juliano Mer-Khamis, to whom the film is dedicated. Mer-Khamis, an inspiration in his own right, founded the Freedom Theater for young people in Jenin, and in this capacity, he was able to advise and inspire the workers during every phase of renovation of the Jenin cinema. What a terrible loss.
Cinema Jenin has won several prizes, including the German Peace prize at the 2011 Munich film festival. Everyone should view it, even if just to remember that this Israeli-Palestinian conflict, even after over 60 years, is still unsolved, nor will it be in the near future, although a few Palestinians and Israelis achieve small steps of success in their own private struggle for conciliation and brotherhood. If possible, check out Heart of Jenin, which is now available on video. For more information, or even better, to "buy" a chair with your name on it in Cinema Jenin, see www.cinemajenin.org. (Becky Tan)