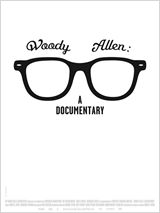 Woody Allen: A Documentary
U.S.A. 2012
Opening 5 Jul 2012
Directed by: Robert B. Weide
Writing credits: Robert B. Weide
Principal actors: Woody Allen, Letty Aronson, Marshall Brickman, Josh Brolin, Dick Cavett
According to the now 75-year old Woody Allen, his neurotic personality developed early in his childhood when he became aware of his own mortality. He states, "How can people be happy knowing that they have to die?" As we know, this is frequently reflected in the themes of his films. Robert B. Weide, an acclaimed documentary filmmaker, screenwriter, producer (TV-series Curb Your Enthusiasm) and winner of three Emmys, took 20 years to convince Woody Allen to be the subject of a documentary. We learn about his childhood in Brooklyn, growing up in humble circumstances as Allan Stewart Konigsberg, writing funny gigs as a teenager and selling them to New York publications. In order not to be teased by his school mates he changes his name to Woody Allen. At the age of 17 he writes up to 50 gigs a day, soon bringing home more money than his father, an unskilled labourer working as bartender, bookmaker and taxi driver.
When trying his hand at stand-up comedy, the shy boy often had to be forced onto the stage, terrified of appearing before a live audience. Once he got the knack, he took any "funny" job that was offered before turning to screenwriting in the mid '60s. After the production of What's New Pussycat he was so frustrated when his script got changed that he decided never again to give any script out of his hands. Since then, he wrote, produced and acted in his own films. As soon as a film was completed he started writing the next one. He showed no interest in the commercial success as long as the film reflected his own vision of the story. When Annie Hall won four Academy Awards, he did not go to the ceremony but preferred playing the clarinet with his friends in a jazz club.
A number of friends, agents, critics and colleagues make their appearance, as well as his only sibling Letty Aronson, who is co-producer of his films. There are comments by actors Sean Penn, Naomi Watts, Mariel Hemingway, Owen Wilson, and others. The lovely Diane Keaton talks of her working experience and recalling their mutual time together. An interview with his late mother, Nettie Konigsberg, filmed by Woody Allan, gives it a very personal note. On the other hand, the split-up from long-time partner Mia Farrow caused by his affair with her adopted daughter, Soon-Yi Previn, is handled swiftly. Woody Allen seems to be surprised how much the press had to say about his private life.
This very astute documentary shows the man behind the movies by watching him talking to actors on set, listening to his memories when sifting through his hand-written notes or proudly demonstrating his typing away on an antiquated typewriter. At the same time it is also a chronicle of 40 years of film history. (Birgit Schrumpf)