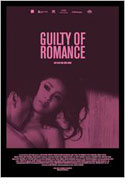 Guilty of Romance (Koi no tsumi)
Japan 2011
Opening 19 Jul 2012
Directed by: Shion Sono
Writing credits: Shion Sono
Principal actors: Miki Mizuno, Makoto Togashi, Megumi Kagurazaka, Kazuya Kojima, Satoshi Nikaido
Japanese director Sion Sono presents three interrelated young women whose lives revolve around sexual activity. Izumi (Megumi Kagurazaka) functions as kind of a robot for her husband. Each day she pours him the same tea, sits beside him on the same sofa and, in the same repeated ritual (my favourite scene), sends him off to work in the morning. This entails handing him a shoe horn for putting on his shoes, giving him his briefcase, waving good-bye, and placing his now empty house shoes in the opposite direction so that he can immediately step into them when he re-enters the house. She seeks fulfilment. Who would have thought? She begins work in a supermarket handing out samples of cheese and sausages and crackers. It's just a short step to becoming a no-nonsense model for pornographic photos. This experience actually helps her in the supermarket job, and the next time you see someone handing out free samples, watch their body language. You might wonder how they got so good.
Then there is Mitsuko (Makoto Togashi). She is a university professor of poetry (director Sono also writes poetry) during the day and an enthusiastic prostitute in the night. She teaches Izumi some tricks to elevate her from porno model to call girl. Number three is Kazuko (Miki Mizuno), a chief of police who must solve the murder of two women. Her sexual escapades involve having an affair with her husband's best friend. The two murdered women actually turn out to be only one corpse, chopped up and extended with the aid of artificial limbs from a store window mannequin (dummy) and then dressed in normal clothes.
Before we know the identity of the corpse and the person responsible for the murder, we must suffer through continuous soft-porn sex scenes, all secret in a dingy building, according to the motto, "he who has secrets is careful about other people's secrets." The men are a big good-looking male model who also sits for porn photos, a strange man who wears a hat and overcoat and throws balloons full of pink paint onto Izumi, as well as Izumi's husband, Yukio, the famous author, who collects experiences about woman for his novels in the same red-light district. They keep talking about the Schloss (castle), supposedly a reference to Franz Kafka's book of the same name, which Sono believes tells a parallel story about attaining an impossible goal.
This is the last part of a so-called "hate" trilogy, the first ones being Love Exposure and Cold Fish. Director Sono says, "Hate is the emotion which contains the most love." That may well be, but I believe Sono was looking for a reason to make a soft-porno film (my male film colleagues liked it). No intelligent woman will identify with these women who grovel and slither in dark corners in order to overcome complexes. It's an insult to women, but perhaps a fulfilment of men's fantasies – a good opportunity to seem intellectual, when actually looking for visual satisfaction. Still this film showed at in at least 12 film festivals between Asia and Europe and once in Toronto. It was nominated for the 2012 Asian film awards for best director. So, call me uptight. I only appreciated the photography and lighting. (Becky Tan)