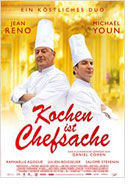 Kochen ist Chefsache (The Chef, Comme un chef)
France/Spain 2012
Opening 7 Jun 2012
Directed by: Daniel Cohen
Writing credits: Daniel Cohen
Principal actors: Jean Reno, Michaël Youn, Raphaëlle Agogué, Julien Boisselier, Salomé Stévenin
Jacky Bonnot (Michael Youn) wants to be a first-class chef but with his unconventional attitude towards guests he cannot keep any job. His enthusiasm is not appreciated, especially when bullying customers or suddenly taking their food away if they choose the wrong wine with the dish. However, he promises his heavily pregnant girlfriend Béatrice (Raphaelle Agogué) to take any odd job he can get even, as a painter in an old age home.
Alexandre Lagarde (Jean Reno) has other problems. He has a good job as master chef of an upper-class restaurant with a worshipping clientele but is worried of losing his star-status. His company wants to modernise and introduce a "molecular kitchen". On the home front he too has troubles. His daughter is about to advocate her doctorate and feels let-down by her busy father.
Sheer coincidence brings the two seemingly incompatible cooks together. As can be predicted, not only the pots are heating up. The temperamental Jacky is not shy to tell his boss, the famous Alexandre Lagarde, when he feels a certain recipe must be changed. On the other hand, he adds innovative ideas and is determined to help his boss keeping all three stars by surprising the food critics with new creations.
Director Daniel Cohen, who also wrote the script, brought two very different personalities together, the fabulous and internationally successful actor Jean Reno (22 Bullets, Godzilla, Léon) and Michael Youn, a popular comedian in French TV shows. The two are cooking up some funny situations but when disguised as a Japanese couple spying on the competition it's getting a bit silly. Jean Reno's strong presence is undoubtedly a drawing card in this cooking comedy.
On a different level the film also highlights the influence of Michelin critics, of the financial pressure, of the dependence on live TV cooking shows. Other values and attention to family can easily land on the back burner. There is a nice satirical touch showing the "modern" cooking and eating habits against the good old traditional Sunday roast.
At the Berlinale 2012 the film had its premiere by opening the section "Kulinarisches Kino". (Birgit Schrumpf)