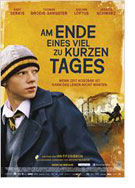 Am Ende eines viel zu kurzen Tages (Death of a Superhero)
Germany/Ireland 2011
Opening 30 Aug 2012
Directed by: Ian Fitzgibbon
Writing credits: Anthony McCarten
Principal actors: Andy Serkis, Thomas Brodie-Sangster, Michael McElhatton, Sharon Horgan, Ned Dennehy
Donald (played by the very talented Thomas Brodie-Sangster, Nowhere Boy) is 15 years old and lives in Dublin with his middle-class parents (Sharon Horgan, Michael McElhatton). When a police car brings him home at night, all his mother can say is: "Oh no, not again!" Donald is fighting his demons. He doesn't do it quietly but goes on nightly tours, spraying his anger and frustration onto walls. Furiously he draws his enemy, the cruel monster "Dr. Glove" and the sexy but dangerous "Nursey Worsey" in bold comic-style. Who would think that he is a lonely, insecure and vulnerable teenager? All he really wants is to hang-out with his friends, get to know girls and fool around. How does it work with girls, how to have sex? His wishes seem to be "unrealistic" since he is fighting against time, against the chance of still being alive for his next birthday. When he paints a life-size voluptuous "Nursey Worsey" on his school's window pane, it is not only the entire staff and the pupils staring at it, but also the proud and rebellious Shelly (Aisling Loftus), the girl of his secret dreams. To his surprise she invites him for a ride on her motorbike when he realises that he has found his soul mate.
But Donald's monster starts invading his real life, causing him heart-breaking agony. His parents sent him to Dr. Adrian King (BAFTA-nominated Andy Serkis, The Hobbit). The psychologist recognises Donald's artistic talent and treats him like an equal. Slowly a true friendship develops between the sad, earnest doctor and the angry teenager. With the help of Dr. King and the kindly prostitute Tanya (Jessica Schwarz), Donald finds out all about sex – but it is the tenderness of innocent first love that he discovers with Shelly.
The impressive backdrop of the Irish coast filmed by Tom Fährmann and the compelling soundtrack by Marius Ruhland (featuring ballades by Australian duo Angus & Julia Stone and Irish band Jonny Kearney and Lucy Farrell) communicate the couple's romantic feelings perfectly, contrasting the haunting heavy metal sounds when Donald's Superhero is fighting his losing battle.
Irish director Ian FitzGibbon approached the German animation company Trixter to create stunning visual effects, blending beautifully into the real-life shots. The film is adapted by Anthony McCarten from his own novel (short-listed for the German Youth Literature Prize) and was first screened at the Tribeca Film Festival. This bittersweet coming-of-age story is a true inspiration. It is visually stimulating with a humorous but brutally honest look at a teenager's terminal illness and his hunger for life. (Birgit Schrumpf)