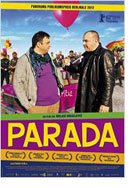 Opening 13 Sep 2012
Directed by: Srdjan Dragojevic
Writing credits: Srdjan Dragojevic
Principal actors: Nikola Kojo, Milos Samolov, Hristina Popovic, Goran Jevtic, Goran Navojec
The life of a gay person is still not stress-free or even safe in many countries in the world. Director/writer Srdjan Dragojevic goes down a humorous path to show us the serious worries of a gay community while planning a Gay Pride parade in Belgrade, Serbia. Limun (Nikola Kojo) is a real macho man: tattoos, judo club, runs a security company. His blond bombshell girlfriend and soon-to-be new second wife Biserka (Hristina Popovi) is planning The Wedding. Their dog Sugar (another talented canine) is the victim of an attack; the gay veterinarian Radmilo (Miloš Samolov) saves Sugar's life, in spite of demeaning commentary by Limun. Radmilo is the boyfriend of Mirko (Goran Jevtic). Biserka has hired Mirko as an expert wedding planner, but he, also humiliated by anti-gay remarks from Limum, throws in the towel and refuses to plan even one more flower arrangement. Now it's Biserka's turn to be upset. She bonds with the gay community and gives her boyfriend an ultimatum: organize security for the upcoming Gay Pride parade, or the wedding is off.
Here Parada turns into a road movie as Limun and Radmilo jump into Radmilo's small, bright pink car and travel to collect far-flung friends who owe Limun a favour. They are a mixed bunch from Serbia, Bosnia, Kosovo, and Croatia, including Albanians and Muslims. They ultimately unite, unbelievably, under the rainbow banner of homosexuals.
Parada won three prizes, including Audience Favorite at the 2012 Berlinale film festival. It is worthwhile to become acquainted with these excellent Balkan actors. Dragojevic uses clichés throughout: pinky-finger-lifting gays, father-son power-play relationship, dumb blond, corrupt chief of police, drug-dealing with the United Nations military, and machos who grow weak when watching an animal giving birth. These clichés carry the story forward, some parts more humorously than others. The director cleverly adds scenes from two classic films: Ben Hur (1959) and The Magnificent Seven (1960) which the opposing groups enjoy watching on their TVs, not realizing that they contain both gay and macho elements.
What for us might be superficial entertainment will definitely be deeper for local viewers, who can relate to the problems, especially the problems of interaction between four countries which used to be united in the one country of Yugoslovia, before it was divided by war and religion. The history of a Gay Pride parade in Belgrade is also difficult. In 2001, the parade was discontinued half-way through. Then there was nothing until the 2010 parade when 6000 hooligans went up against 5000 police. There was nothing again in 2011. This year, 2012, the date is set for October 6, in the hopes that homophobia has diminished in Belgrade, something, which we in Hamburg (for example) take for granted, where huge, smiling, happy crowds assembled to cheer the Christopher Street Day parade on August 4. (Becky Tan)