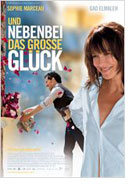 Und nebenbei das große Glück (Happiness Never Comes Alone, Un bonheur n'arrive jamais seul)
France 2012
Opening 20 Sep 2012
Directed by: James Huth
Writing credits: James Huth, Sonja Shillito
Principal actors: Gad Elmaleh, Sophie Marceau, Maurice Barthélémy, François Berléand, Michaël Abiteboul
It does exist – "love at first sight", the true passion! Unexpectedly it hits Charlotte Posche (Sophie Marceau) and Sacha Keller (Gad Elmaleh) on a rainy day in Paris. Never mind that their personalities are total opposites. She is a well-organised businesswoman, a responsible mother and still friendly with her two ex-husbands. He is an unattached mid-40s jazz pianist working in a bar, loves only his music, his friends, parties, one-night stands and his freedom.
When Charlotte literally falls flat on her nose right in front of him, their lives start taking a different course. Her stumble in the pouring rain is a hilarious start to the film. The gorgeous Sophie Marceau is not only a very able actress but also a very comical one. Sacha charms her with his wit and bubbly energy, played by the popular French stand-up comedian Gad Elmaleh. Both are overtaken by their emotions until Sacha discovers with a shock that she has three children. This is not his scene (he "hates" children). But as love has it, Charlotte is the woman of his dreams – and he realises that the children are part of her. Consequently, he starts loving them too.
A cynical Francois Berléand is her estranged husband Allan Posche, father of the two boys. He does not like Sacha. As he is the big boss in the entertaining industry who succeeds in sabotaging Sacha's job opportunities. When a musical offer comes up in New York, Charlotte lets Sacha leave – pretending that she does not love him. In the meantime she realises that she still lives in a "golden cage" controlled by Allan. She moves to the outskirts of Paris, starting a new life with her children.
In New York Sacha's musical is a success. His learns from his friends that Charlotte still loves him and gets on the next plane to see his one and only love. It isn't a smooth landing as he still has to confront the powerful Allan Posche. There may be hurdles to overcome and adjustments to make but Sacha's life has taken a new direction and he is determined to see it through.
This romantic French comedy by James Huth, who wrote the script together with his wife Sonja Shillito, belongs to the category of a "feel good movie". Bruno Coulais' music score includes well-known songs from Billie Holiday to Stevie Wonder as well as his own pleasing piano compositions. Maurice Barthélémy plays Sacha's best friend Lolo. Other members of the cast are Michael Abiteboul, Macha Méril and Litze Veszi (94 years) as Granny Matzü. The slapstick is a bit overdone (the beautiful Sophie Marceau did all her own amazing "stunts") when the two main characters keep falling not only onto each other but also against wash basins, lamps, etc.. But I must admit that some of the action is really funny and catches you by surprise. (Birgit Schrumpf)