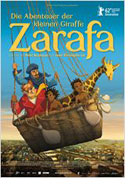 Die Abenteuer der kleinen Giraffe Zarafa (Zarafa)
France/Belgium 2012
Opening 11 Oct 2012
Directed by: Rémi Bezançon
Writing credits: Alexander Abela, Rémi Bezançon
Principal actors: Max Renaudin Pratt, Simon Abkarian, Vernon Dobtcheff, Roger Dumas, Ronit Elkabetz
Maki, a small boy, has been captured by slave drivers in Africa. He witnesses the abduction of the little giraffe named Zarafa. Along the way both change hands from the evil Moreno to the responsible Prince Hassan. Upon arrival in Alexandria, Egypt, Zarafa, Maki, Prince Hassan and two cows (who provide milky meals for Zarafa) board a hot-air balloon under the command of Malaterre. They soar off to France, like something out of Around the World in 80 Days. Through a stroke of luck or misfortune, whatever your interpretation, the group is separated. Half of them continue on a pirate ship manned by Bouboulina, a feisty Greek female pirate. All are reunited in Marseille. From there they travel slowly overland to Paris where Zarafa moves into the Jardin des Plantes Zoo as a present for the king. He is an instant success: the first giraffe in Paris. "Giraffe-o-mania" breaks out and everyone wears fashions in a yellow and brown giraffe design. Maki (who most often wears a kind of diaper) refuses to return home without Zarafa, and so he, Hassan, Malaterre, and newcomer Soula, settle in for the long haul, more or less successfully according to their abilities. The ending is logical and realistic, but not Hollywood. In fact the there is often violence (Maki chained as a slave, people shot with a pistol, a vicious alligator, Zarafa's mother dying a la Bambi, etc.), a reflection of humanity at its best and worst.
An elderly African storyteller tells the story of Zarafa to a wide-eyed audience of five or six children sitting in the dust of a village, so that the film flashes back and forth. Occasionally he stops to explain his choice of words, so that we learn the meaning of mirage, eclipse of the moon, Egyptian hieroglyphics, telescopes, snow, Buddhism, etc, and in the end we can also guess the identity of this old man.
The artwork is amazing; you could hang any of the landscape or city scenes in your living room and be proud. The music is a delight: played on native African and Egyptian instruments, it follows the characters as they move from Africa to France, i.e., oriental, Greek, operetta, and baroque. Many thanks to composer Laurent Perez del Mar.
Not only is this a wonderfully constructed film, created by Rémi Bezançon and Jean-Christophe Lie, but it is a true story. In 1826 the first giraffe travelled from Alexandria to Paris, an idea of France's ambassador to Egypt as a present from the Pasha to King Charles X, who accepted this unusual present on July 9, 1827. Zarafa lived 18 years and has been preserved in the Museum of Natural History in La Rochelle.
Among the characters I soon had my favorites: the two cows, the hippopotamus and King Charles. Pick your own favorites, as all will be delightful to anyone six years or older. (Becky Tan)