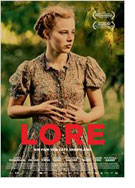 Opening 1 Nov 2012
Directed by: Cate Shortland
Writing credits: Cate Shortland, Robin Mukherjee, Rachel Seiffert
Principal actors: Saskia Rosendahl, Nele Trebs, André Frid, Mika Seidel, Kai-Peter Malina
This antiwar drama is about five children of high ranking Nazi parents, who cross post-war Germany in order to find their grandmother. Lore (Saskia Rosendahl) and her four younger siblings (Nele Trebs, Mika Seidel, André Frid and Nick Holaschke) have led a privileged and sheltered life during World War II, but now the Allies have come to incarcerate her parents (Ursina Lardi and Hans-Jochen Wagner). The soon-to-be-abandoned siblings are told to travel from their hiding place in a hut in Southern Germany to Hamburg, where their grandmother lives. On their way, they are confronted with the anarchic circumstances brought upon the country by the end of the war, and they also learn about the cruelties of the Nazi regime. When they run into allied soldiers, they cannot provide identification documents. Thomas (Kai Malina), a young man who had been following the family for a while, comes to their aid. Lore is horrified to learn that Thomas is a Jew.
There are many antiwar films and then some more about Nazi Germany. But this movie is not about the horrible things that wars do to a country. It is about the scars that these calamities leave on people's souls. Before their road trip begins, Lore comforts her baby brother with the words: "don't worry, before the victory there is always pain". When the movie ends, it becomes clear that there might never be victory for Lore. She has lost her intellectual innocence at one level and regains it through her process of auto-denazification. But the war has forever changed her ability to connect to herself and with people. After these real life Hunger Games, she realizes that she has lost the ability to dance and enjoy herself.
What I really enjoyed about this movie is the observation that a cruel and authoritarian upbringing lays the actual foundation for the atrocities people commit in war once anarchy allows them to lose all inhibitions. Unfortunately, this perversion got organized in Germany and became one of the most inhuman state systems in history. Decades later, Germans went through a complicated process between amnesties and the quest for answers and the truth. But even more than fifty years later, the consequences of crippled emotions are still being handed down in families: the inability to deal with guilt, the tendency to block out things that seem too much to remember and, most of all, the inability to trust in life, sensuality and joy.
The location where I saw Lore could not have been more of a memorial. The Abaton movie theatre has formerly been run by the Jewish community of the Grindel area, the former Jewish quarter. The many brass plates on the floor marking people who were deported to concentration camps reminded me once more that Lore is not just a movie. (Katia Trost)