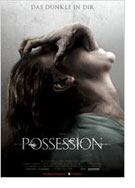 Possession - Das Dunkle in dir (The Possession)
U.S.A./Canada 2011
Opening 8 Nov 2012
Directed by: Ole Bornedal
Writing credits: Juliet Snowden, Stiles White, Leslie Gornstein
Principal actors: Natasha Calis, Jeffrey Dean Morgan, Kyra Sedgwick, Jay Brazeau, Madison Davenport
Remember your first horror film when you were a teenager, crouched in a cinema seat at midnight for a Halloween special? This one is especially enticing because it is based on "true" events which could happen to you. Here an evil spirit from Jewish mythology, a dibbuk (also dybbuk), takes possession of a living body. The only way to subdue a dibbuk is to coach it back into its box by means of a dried bird skeleton or locks of hair, etc. Never open a dibbuk box!
A man in Oregon told about buying a real dibbuk box, which ruined his life. He sold it on eBay to a student at Truman University in Kirksville, Missouri. The director of the Museum of Osteopathic Medicine in Kirksville, Jaxon Haxton, then bought it from the student and began to research the origins, even driving to Oregon several times to talk to the original owner who claimed that it had belonged to survivors of the Holocaust. Haxton compiled his information into a book: The Dibbuk Box. He convincingly underlines the special powers of a dibbuk, and at the same time permits us to disbelieve the whole story. Leslie Gornstein talked with Haxton as well as the university student about their dibbuk experiences. Her article A Jinx in a Box appeared in the Los Angeles Times and is mentioned in the credits of the film Possession.
Danish director Ole Bornedal (well-known for his thriller Nightwatch) and producer Sam Raimi took inspiration from all this and, with the help of screenwriters Juliet Sowden and Stiles White, came up with a fresh, new story, full of the gruesome effects surrounding the dibbuk box's history, but still original.
Here 11-year-old Em buys a box at a yard sale. She lives with her mom Stephanie (Kyra Sedgwick) and 15-year-old sister Hannah. The parents are divorced but the girls often stay with their dad, Clyde (Jeffrey Dean Morgan). Naturally, they open the box and the evil spirit crawls right into Em, who wakes up in a room full of 2000 (real) moths crawling on her face; she begins to chomp on raw meat. She is possessed, lost. The whole family is slowly terrorized in evil ways; the desperate parents are united in their efforts to "cure" poor Em. Finally Clyde meets up with a rabbi (played by Matisyahu, a Hasidic rap and reggae star) who undertakes a Jewish exorcism.
The story should satisfy all lovers of scary movies, because it is scary enough without being perverse. Twelve-year-old Natasha Calis is excellent beyond her years as Em. Supposedly, author Jason Haxton claims he has nailed up his dibbuk box into a second box which stands locked in a storage room – you might visit the Museum of Osteopathic Medicine in Kirksville, Missouri, and ask to see it, although he will refuse; after all this box ruined his health. If all else fails, you can still bid on another one through eBay, but I wouldn't recommend it – your life will be changed forever. Just go see the film if you don't believe me. (Becky Tan)