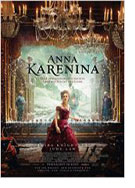 Opening 6 Dec 2012
Directed by: Joe Wright
Writing credits: Tom Stoppard, Leo Tolstoy
Principal actors: Keira Knightley, Jude Law, Aaron Taylor-Johnson, Matthew MacFadyen, Kelly Macdonald
This romantic drama, an adaptation of the famous novel by Leo Tolstoy, centers on the personal and social consequences of an extramarital affair and the meaning of love and marriage in the noble society of Russia's St. Petersburg in 1874 through three interwoven stories.
Anna Karenina (Keira Knightley) is summoned from St. Petersburg to Moscow to save her brother Oblonsky's (Mathew Macfadyen) marriage to Dolly (Kelly Macdonald). On the train station in Moscow she is introduced to the cavalry officer Vronsky (Aaron Taylor-Johnson). Both are instantly attracted to each other. Also visiting the Oblonsky household is Oblonsky's best friend Levin (Domhnall Gleeson). Levin proposes to Kitty (Alicia Vikander), Dolly's younger sister, who refuses his proposal because she is infatuated with Vronsky. At a grand ball, it is Kitty's turn to have her heart broken, while she notices that Vronsky and Anna are falling in love. Levin returns to his estate Pokrovskoe to distract himself with farm work. Anna tries to avoid her inner turmoil by fleeing back to her son Serozha (Oskar McNamara) and her husband Karenin (Jude Law). But Vronsky cannot let her go and follows her to St. Petersburg. A passionate love affair between Vronsky and Anna begins, shaking up St. Petersburg's society. When Anna becomes pregnant with Vronsky's child, Karenin can no longer deny his wife's affair.
It is from now on that the words Karenin sent Anna off to Moscow with become ominous: "Sin comes with a price, you may be sure of that". While the original novel covers many topics, such as the class system in Imperial Russia, the problems of industrialization or political subjects like the Pan-Slavic movement, this film adaptation focuses on the theme of love and its different shades in a society of people pretending to be what they are not. The director emphasized the latter, making a theatrical approach in terms of the setting. Many scenes take place on a stage or backstage in a decaying theatre. Some of the scenes, like the grand ball, are also choreographed, sometimes resembling a modern ballet. In this slightly claustrophobic environment it is shown that Anna and Vronsky indeed have to pay a price, as they discover that the society would only answer to their commitment to each other with social ostracism.
I was pleasantly surprised by the modernity of the portrayal of a society where breaking the rules is worse than breaking the law. I admit that I put the novel down half way through; I was expecting another story about a wife who falls from grace and is later abandoned by her lover. I was mistaken! Tolstoy, as well as director Joe Wright, did a good job by contrasting different models of love and its social implications in a non-judgmental way: the hot and passionate love between Vronsky and Anna, Oblonsky's and Dolly's aging marriage and Levin and Kitty, who do find each other after all. Yet, I am not sure the bold theatrical approach fully convinced me. From the first scene on I couldn't stop comparing Anna Karenina to Guy Ritchie's Sherlock Holmes. Even Oblonsky reminded me of Robert Downey Jr. as Holmes. The comparison is not too far-fetched, because both movies have a common production designer and set decorator (Sarah Greenwood and Katie Spencer). While the lush scenery was pleasant on the eyes, I found that it somewhat influenced the acting, especially of Keira Knightley and Aaron Taylor-Johnson, making it less intense than it could have been. In the beginning I was quite annoyed with Aaron Taylor-Johnson, as he reminded me a lot of Jackson Rathbone as Jasper Hale in Twilight: as if he was being deprived of something vital. But then I realized that, actually, he was, until he got his Anna. However, Jude Law as Karenin knocked me off my feet. This guy wasn't on my radar as a character actor! In this movie he absolutely convinced me as Anna's stiff and dispassionate cuckolded older husband (he altered his voice and shaved his forehead to appear bald).
The story by itself would have gotten four stars. But since it is not the original story, but the adaptation that counts, I am giving the movie three stars. I enjoyed the experience, loved the scenery and the costumes, but I wasn't emotionally drawn in the way I would have liked.
Directed by Joe Wright, written by Tom Stoppard, based on the novel by Leo Tolstoy. (Katia Trost)