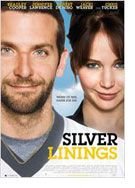 Silver Linings (Silver Linings Playbook)
U.S.A. 2012
Opening 3 Jan 2013
Directed by: David O. Russell
Writing credits: David O. Russell, Matthew Quick
Principal actors: Bradley Cooper, Jennifer Lawrence, Robert De Niro, Jacki Weaver, Chris Tucker
This romantic "dramedy" is about two people with psychological issues who find love and a way to cope with life through a dance contest. Pat (Bradley Cooper) has just been released from a mental institution, where he had to spend some time as part of a plea bargain because he had previously beaten up his wife's lover. He moves back in with his parents (Robert De Niro and Jacki Weaver), while obsessing with getting his wife Nicky (Brea Bee) back. But things don't go as smoothly as Pat hoped with a restraining order issued against him and a bipolar disorder to deal with. Looking for ways to get in touch with Nicky, Pat has dinner at his best friends' house (John Ortiz and Julia Stiles). There he meets Tiffany (Jennifer Lawrence), whose husband was killed a few months ago and who has issues of her own. Tiffany agrees to help Pat reconnect with his wife, if he agrees to be her partner at a dance contest.
While Pat tries to appear normal and sane in order to put his life back together, his surroundings are falling apart: his father needs his presence and the perfect alignment of the remote controls in order for the Philadelphia Eagles to win a football game. His brother (Shea Whigham) cannot connect anymore because, unlike Pat, he is on the upper side of life. Even his best friend confides in him that he feels life is choking him little by little. And here is the lesson: everybody is a little crazy.
But what exactly qualifies you to be locked up in a mental institution? In comes Tiffany, who admits to liking all her dirty little parts and asks Pat if he can say the same about himself. Pat is a firm believer that if you work hard, you have a shot at the silver lining. But while Pat was trying to shape up and read literature, the crazy girl teaches him that being "good" and being sane are not the same thing. And crazy enough, things start working out for them in life and love, once they turn all the madness into a dance project.
This charming movie does not tell a new tale and yet, it makes you laugh and sigh at the right parts. All the actors played well, but most and foremost Bradley Cooper and Jennifer Lawrence. This amazing and very natural young actress becomes more authentic and intense with every movie she makes. **** for the great message and the main actors. Directed and written by David O. Russell, based on the novel The Silver Linings Playbook by Matthew Quick. (Katia Trost)