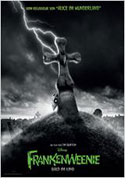 Opening 24 Jan 2013
Directed by: Tim Burton
Writing credits: Leonard Ripps, Tim Burton, John August
Principal actors: Catherine O'Hara, Martin Short, Martin Landau, Winona Ryder, Robert Capron
Victor Frankenstein lives in New Holland with his kind and helpful parents Mr and Mrs. Frankenstein and his dog Sparky. He is ten years old and quite an amateur scientist, puttering away in his attic laboratory. He loves his science teacher Mr. Rzykruski who encourages the kids to think and to ask questions. Mr. Burgemeister (who is, in fact, the mayor of the town) lives next door; he spends much of his time tending his garden and finding ways to chase unwelcome kids and animals out of his yard. Poor Sparky dies; but resourceful Victor reanimates him, just like Frankenstein, and, like Frankenstein, he looks a bit weird – a kind of stuffed animal of his former self. Victor's classmates Edgar, Elsa, Nassor, Toshiaki, and Bob are both curious and envious at this success; they intensively spy on Victor to discover his secret and when they think they've got it, they march to the town cemetery to dig out their own pets: a turtle and a hamster, and bring them back to life, but differently than expected. While they are at it, they work magic on some rats, crabs, and a cat; the town is overcome by chaos during the Dutch Day festival, when Elsa van Hesing is crowned Little Miss Holland.
Tim Burton has done it again: made a fantastic and weirdly fun film. It is in stop-motion animation, which isn't the same as an animated film. Here, 200 dolls had to be made and set in place to move 24 times for one second of film. Thirty-three animators worked for two years to produce five seconds of film a week. Mr. Rzykruski is an homage to Vincent Price, that film legend of horror films such as The Mad Magician (1954) or the original The Fly (1958). Children should like the film, since it's about them; adults will love it – a horror film with morals such as "Do your best" or "Envy will lead to your downfall" or "Make sure you know the facts." (Becky Tan)


Second Opinion

From the director who brought us Edward Scissorhands and Mars Attacks, Tim Burton is still on a creative roll, bringing us now a mysterious stop-motion animation. The film dives into a world of black-and-white puppets where we meet the quiet student Victor who loves science, his supportive family and his most trusted dog Sparky. We quickly see the social climate in the classroom where we meet all of Victor's classmates who remind us of Peter Lori and Boris Karloff; his idol science teacher Mr. Rzykruski is a mix of Vincent Price and Bella Lugosi. He encourages exploring the out boundary of science. But when Victor's dog dies, Victor uses his science idea to bring him back, and that is when this world heads into a chaotic creepy monstrous disaster. We are lucky that Burton is a long-time fan of this slow motion animation due to his 30 years of film making. There is a quality that computer animations just can't capture. It is a true work of art since five seconds of footage is due to a week's labor.
This film opened and was a success at the London film festival. Burton said the dog story was special to him since he had worked on a short film during the '80s at Disney which paid homage to Shelley's Bride of Frankenstein. So if you like an off-beat movie, this is one not to miss. I just loved its creativity and its message that it sends to the young explorers of our future! (Shelly Schoeneshoefer)